Lower Cost Mini Pig Spays & Neuters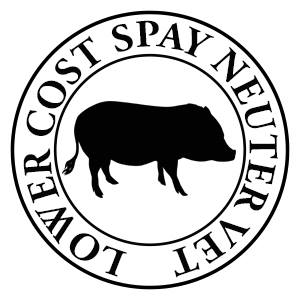 The following list is the www.AMPAVETS.com map of veterinarians that treat mini pigs. The vets with the LOWER COST SPAY NEUTER marker have been compiled by fellow pig parents that have found spays and neuters to be on the lower end of the range (typically under $200, in some cases closer to $100). Every surgery is an individual case, pricing will vary accordingly. Please contact the veterinarian directly to get an estimated price for your mini pig's surgery & ensure you are comfortable with the experience and practices of the clinic. For neuters the inguinal ring should always be closed during surgery to prevent herniation.
If you have information on a veterinarian that offers affordable spays or neuters for mini pigs please email to [email protected] or Contact Us. 
On the map, look for veterinarian listings with the LOWER COST SPAY NEUTER marker.
| | Title | Address | Description |
| --- | --- | --- | --- |
| | Alaska State Veterinarian Office | 5251 Dr. MLK Jr. Ave., Ancourage, AK | AMPA Veterinary Outreach Member (907) 375-8214 |
| | Mt. McKinley Animal Hospital | 800 College Road, Fairbanks, AK 99701 | (907)452-6104 |
| | Simmons Alpine Animal Clinic | 12531 Old Seward Hwy, Anchorage, AK 99515 | (907)345-1515 |
| | Wild Wood Mobile Vet | 1879 N Wildwood CirWasilla, AK | (907)354-7390 |
| | Animal Hospital P.C | Oneonta, AL | (205)625-3291 |
| | Baldwin Animal Clinic | Summerdale, AL | (251) 989-6213 |
| | Berry Animal Clinic | 24089 Al Highway 9N Piedmont AL | (256) 447-6318 |
| | Blue Bonnet Animal Clinic | 9711 County Road 42 Jemison, Alabama 35085 | (205) 688-3200 |
| | Calera Animal Hospital | 9370 Hwy 25 Calera, Alabama 35040 | 205-668-2300 |
| | Canal Road Animal Hospital | 22640 Canal Rd Orange Beach, AL | (251)968-7387 |
| | Clanton Animal Hospital LLC | 1519 Pelham Rd S. Jacksonville AL | 256.435.8387 |
| | Colony Veterinary Hospital | 701 Glover Ave, Enterprise, AL 36330 | (334) 393-3366 |
| | Custard Veterinary Services | 6431 Applewood Ct, Montgomery, AL | (334) 279-4886 |
| | Holly Pond Animal Clinic, Dr. Mitchell Smith | Holly Pond, Alabama | (256)796-0055 |
| | Jones Veterinary Hospital | 1118 Sanford Rd Andalusia, AL | (334)222-4713 |
| | Kevin Bolding Veterinarian Clinic | 1780 Montgomery Hwy Centerville, AL | 205-926-4347 |
| | LAKE CREST ANIMAL CLINIC | 551 Lake Crest Drive, Hoover, AL 35226 | (205)403-4003 |
| | North Jackson Animal Clinic | 124 Co Rd 85 Stevenson, AL 35772 | (256) 437-8483 |
| | Tennessee Valley Animal Clinic | 1582 Highway 72 E. Tuscumbia, AL 35674-4570 | (256)386-9800 |
| | TLC Veterinary Hospital | 2320 Snow Road North Semmes, AL 36575 | (251)649-6709 |
| | Tuskegee University Veterinary Medical Teaching Hospital | Hospital Road, Tuskegee, AL 36088 | 334-727-8461 |
| | Twin Creeks Veterinary Services | 85774 Highway 9 Ashland, AL | (256)354-7032 |
| | Veterinary Hospital of Centreville | 1780 Montgomery Hwy Centreville, AL | (205) 926-4347 |
| | Alma Animal Clinic | 1915 Highway 64 E Alma, Arkansas 72921 | (479) 430-7280 |
| | Animal Medical Center | 1115 S Gee St Jonesboro, AR | 870-935-8387 |
| | BR Cato Veteriary Clinic | 5902 US-61 Blytheville, AR 72315 | (870) 763-2286 |
| | Country Veterinary Service | 12377 Jimmy Devault Rd, Farmington, AR | AMPA Veterinary Outreach Member 479-267-2685 |
| | Country Veterinary Services | 12377 Jim Devault Rd Farmington, AR 72730 | (479) 267-2685 |
| | Country View Animal Care Center | 17624 W Hwy 72 Gravette, Arkansas 72736 | (479)787-6284 |
| | Doubletree Veterinarian Clinic | 2606 Ferndale Cut off Rd Little Rock, AR | 501-821-1880 |
| | Hubbs Animal Clinic | 3005 Alma Highway Van Buren, Arkansas 72956 | 479-474-6898 |
| | North Hills Animal Hospital | 7805 JFK Blvd. Sherwood, AR 72120 | (501)835-3577 |
| | South County Animal Hospital | 12310 S Hwy 96 Greenwood AR 72936 | (479)996-6095 |
| | St Francis Veterinary Clinic | 310 CR 706 Green Forest, Arkansas 72638 | (870)423-2630 |
| | Adobe Vet Center | 333 W. Cool Dr. Tucson, AZ 85704 | (520)742-7730 |
| | Adobe Vet Center | 8300 E. Tanque Verde Rd. Tucson, Arizona 85749 | 520.546.8387 |
| | Anasazi Animal Clinic | 425 W Guadalupe Rd, Suite 112 Gilbert, AZ 85233 | (480)497-0505 |
| | Arizona Exotic Animal Hospital | 20040 N. 19th Ave. Ste C, Phoenix AZ 85027 | (623)243-5200 |
| | Arizona Exotic Animal Hospital | 744 N Center St #101 Mesa, AZ | 480-275-7017 |
| | Avian and Exotic Animal Clinic | 7 E Palo Verde St Ste 1 Gilbert, AZ | 480.706.8478 |
| | Camelwest Animal Hospital | 10045 W. Camelback Road #105 Phoenix, AZ 85037 | (623)377-9763 |
| | Colorado River Animal Medical Center | 2079 Highway 95 Bullhead City, AZ 86442 | (928) 763-7387 |
| | Desert Hills Animal Clinic | 1039 East Carefree Highway, Phoenix, AZ 85085 | 623 -581-1558 |
| | East Valley Animal Hospital | 81 W Guadalupe Rd, Suite 105 Gilbert, AZ 85233 | (480)892-1577 |
| | Finlayson Animal Hospital | 5036 N 51st Ave, Glendale, AZ 85301 | (623)934-7284 |
| | Manzanita Animal Hospital | 2323 Detroit Ave Kingman, AZ 86401 | (928)753-6138 |
| | Mile Hi Animal Hospital | 334 White Spar Road Prescott, Arizona 86303 | (928)445-4581 |
| | Montezuma Veterinary Services | 100 S Montezuma Castle Highway Camp Verde, AZ 86322 | (928)567-5515 |
| | Palm Glen Animal Hospital | 7771 N 43rd Ave Phoenix, AZ 85051 | 602.841.1200 |
| | Prescott Animal Hospital | 1318 W Iron Springs Rd, Prescott, AZ 86305 | (928)445-2190 |
| | Road Runner Animal Clinic | 7435 W Cactus Ave Ste 101 Peoria, AZ 85381 | (623)878-0033 |
| | VCA Elliot Park Animal Hospital | 1700 East Elliot Road, Suite 19 Tempe, AZ 85284 | (480)838-8700 |
| | VCA Mesa Animal Hospital | 858 North Country Club Drive Mesa, AZ 85201 | (480)833-7330 |
| | VCA Phoenix West Animal Hospital | 6530 West Indian School Road Phoenix, AZ 85033 | (623)846-5965 |
| | Wickenburg Veterinary Clinic | 1127 W Wickenburg Way, Wickenburg, AZ 85390 | (928) 684-7866 |
| | Bear River Mobile Veterinary Service | 14145 Wolf Rd Grass Valley, CA 95949 | (530)559-8910 |
| | Bradshaw Animal Hospital | 9609 Bradshaw Rd, Elk Grove, CA 95624 | (916)685-2494 |
| | Temeku Equine | 43250 Los Corralitos Rd, Temecula, CA 92592 | (951)595-5767 |
| | Westminster Veterinary Group | 6621 Westminster Ave, Westminster, CA 92683 | (714)899-1100 |
| | 911 VETS MOBILE VETERINARY SERVICE | 11671 National Blvd Los Angeles, CA 90064 | (310)477-4140 |
| | Acacia Animal Hospital | 655 West Citracado Parkway Escondido, CA 92025-6479 | (760)745-8115 |
| | Access Animal Emergency Hospital | 9599 Jefferson Blvd. Culver City, CA 90232 | 310-558-6100 |
| | Airport Irvine Animal Hospital | 1206 Bristol Street Costa Mesa , CA 92626 | (714)754-1033 |
| | All Animals Vet Hospital | 23815 Ventura BlvdCalabasas, CA 91302 | 818-600-1838 |
| | All Critters Pet Hospital | 9339 Rosedale Hwy, Ste H, Bakersfield, CA 93312 | 661-589-1234 |
| | Amador Valley Veterinary | 1809 Santa Rita Road Pleasanton, CA 94566 | (925)462-3646 |
| | Animal & Bird Clinic of Mission Viejo | 24912 Chrisanta Drive Mission Viejo, CA 92691 | (949)768-3651 |
| | Animal Emergency Clinic | 12180 Ridgecrest Rd #122, Victorville, CA 92395 | (760)962-1122 |
| | Animal Hospital OF Eagle Glen | 2279 Eagle Glen Pkwy #108, Corona, CA 92883 | (951)340-9200 |
| | Animal Medical Center of Mission Viejo | 27230 La Paz Rd. Mission Viejo, CA 92692 | (949)768-3300 |
| | Animal Medical Center of Orange | 1330 North Glassell St. Suite M Orange, CA 92867 | (714)997-3686 |
| | Antelope Valley Animal Hospital | 1326 W Ave N. Palmdale, CA 93551 | (661)273-1234 |
| | Banning Veterinary Hospital | 3559 W Ramsey St # E Banning, CA 92220 | (951)849-3864 |
| | Bear Valley Animal Hospital | 20991 Bear Valley Rd Apple Valley, CA 92308 | (760)240-5228 |
| | Boulevard Pet Hospital | 3489 Castro Valley Blvd Castro Valley, CA | (510)538-1302 |
| | Brookhurst Animal Medical Center | 1301 S Brookhurst St, Anaheim, CA 92804 | (714)776-7387 |
| | Capri Plaza Pet Clinic | 19582 Ventura Blvd, Tarzana, CA 91356 | (818)881-6344 |
| | Cirby Ridge Animal Hospital | 1801 Cirby Way # 1Roseville, CA 95661 | (916)789-0123 |
| | Compassionate Veterinary Care | P.O. Box 31 Coloma, CA 95613 | (530)771-7770 |
| | Conejo Valley Veterinary Hospital | 3580 Willow Ln Thousand Oaks, CA 91361 | (805)495-4671 |
| | Cotati Large Animal Hospital | 8079 Gravenstein Hwy, Cotati, CA 94931 | (707)795-4356 |
| | Cottonwood Large Animal Vet | 3917 Main St Cottonwood, CA 96022 | (530)347-3711 |
| | Crown City Veterinary Medical Group | 2657 E. Washington Blvd. Pasadena, CA 91107 | (626)296-1001 |
| | Darling Veterinary Clinic Chico | 2520 Dominic Dr Ste 145 Chico, CA | (530)892-8910 |
| | Del Norte Plaza Vet Clinic/ North Escondido Animal Hospital | 306 #F West Del Norte Parkway Escondido, CA 92027 | (760)741-8387 |
| | Desert Care Animal Hospital | 15664 Main St. Hesperia, CA 92345 | (760)949-7387 |
| | Desert Mountain Veterinary | 655 CA-138 Pinon Hills, CA 92372 | (760)868-2418 |
| | Discovery Valley Animal Hospital | 997 W.San Marcos Blvd., Suite 102A San Marcos, CA 92078 | (760)744-0032 |
| | Dr Charlene Hagues | 2588 N Temperance Ave Fresno, CA 93727 | (559)292-7393 |
| | Dr Ron's Animal Hospital & Emergency | 1376 Erringer Rd, Simi Valley, CA 93065 | (805) 306-0633 |
| | Dr, Roueche, & Dr. Dyck | 24639 Arch Street Newhall, CA 91321 | (661)259-7745 |
| | Dr. Jyl's Mobile Vet Connection | 7438 Cardwell Avenue, Orangevale, CA, United States | AMPA Veterinary Outreach Member 916-989-0738 |
| | East County Large Animal Practice | 10312 Quail Canyon Road El Cajon, CA 92021 | (619) 561-4661 |
| | Emergency Pet Clinic OF South Bay | 2325 Torrance Blvd Torrance, CA 90501 | (310)320-8300 |
| | Exeter Vet Clinic | 302 North F St Exeter CA 93221 | (559)592-5210 |
| | Exotic Animal Care Center | 2121 E. Foothill Blvd. Pasadena, CA 91107 | (626)405-1777 |
| | Ferndale Veterinary | 1140 Van Ness Ave Ferndale, CA 95536 | (707)786-4200 |
| | Ford Veterinary | 13385 E Bullard Ave, Clovis, CA 93619 | (559)298-3331 |
| | Fortuna Veterinary | 251 N. Fortuna BlvdFortuna, CA 95540 | (707)725-6131 |
| | Gary J Amaral DVM | 3916 Allen School Rd Bonita, CA 91902 | (619) 267-7775 |
| | Greek and Associates Veterinary Hospital | 23687 Vía del Rio Yorba Linda, CA 92887 | (714)463-1190 |
| | Gridley Vet Hospital | 27 E Gridley Rd Gridley CA | (530)846-6212 |
| | Groveway Veterinary Hospital | 2423 Grove Way Castro valley, CA | (510)581-6629 |
| | H & M Veterinary Hospital | 2330 Mall Loop Rd #115 Lancaster, CA 93536 | (661)942-3070 |
| | High Desert Animal Care Hospital | 3243 E Palmdale Blvd, Palmdale, CA 93550 | (661)272-1616 |
| | Lone Oak Animal Hospital | 34775 Road 132, Visalia, CA 93292 | 559-732-4810 |
| | Long Beach Animal Hospital | 3816 E. Anaheim St. Long Beach, CA 90804 | (562)434-9966 |
| | Look Ahead Veterinary Services | 1451 Clark road Oroville CA 95965 | (530)534-0722 |
| | Loomis Basin Veterinary Clinic, Inc. | 3901 Sierra College Blvd. Loomis, CA 95659 | (916)652-5818 |
| | Los Alamitos Animal Hospital | 4102 Katella Ave, Los Alamitos, CA 90720, | (562)431-6925 |
| | Los Banos Veterinary Clinic | 1900 E Pacheco Blvd, Los Banos, CA 93635 | (209)826-5860 |
| | Mid Valley Veterinary Hospital | 17280 Saticoy St, Van Nuys, CA 91406 | (818)705-4585 |
| | Mill Station Vet Service | 7768 Sikes Rd Dixon, California 95620 | (707)344.5763 |
| | Millville Veterinary Clinic | 23653 Millville Way, Millville, CA 96062 | (530)547-4457 |
| | Mokelumne River Veterinary Services | 20633 Elliott Rd Lockeford Ca 95237 | (209)727-5359 |
| | Mono Way Veterinary Hospital | 14401 Mono Way, Sonora, CA 95370 | (209)532-5507 |
| | North Coast Veterinary Hospital | 1701 Giuntoli Lane Arcata, CA. 95521 | (707)822-4885 |
| | North Valley Vet Clinic | 43619 Sierra Highway Lancaster, CA | (661)945-7906 |
| | Orange Canyon Pet Clinic | 7614 E Chapman Ave, Orange, CA 92869 | (714)633-4496 |
| | Orange County Emergency Pet Clinic | 3920 N Harbor Blvd, Fullerton, CA | (714)441-2925 |
| | Orange County Emergency Pet Clinic Garden Grove | 12750 Garden Grove Blvd. Garden Grove, CA 92843 | (714)537-3032 |
| | Paws & Claws Mobile Vet | 23210 Ventura Blvd Woodland Hills, CA 91367 | (818)346-7387 |
| | Pedley Square Veterinary Clinic | 8822 Limonite Ave, Riverside, CA 92509 | (951)685-3331 |
| | Pet Emergency & Specialty Center | 5232 Jackson Dr La Mesa, CA 91942 | (619) 462-4800 |
| | Pinole Pet Hospital | 1400 San Pablo Ave, Pinole, CA 94564 | (510)724-8766 |
| | Saddleback Animal Hospital | 1082 Bryan Avenue Tustin, CA 92780 | (714)832-8686 |
| | San Joaquin Veterinary Hospital | 3441 Allen Road Bakersfield, CA 93314 | (661)588-3299 |
| | Santa Ana Veterinary Hospital | 1933 South Main St. Santa Ana, CA 92707 | (714)545-8281 |
| | Santa Margarita Animal Care | 30052 Santa Margarita Parkway Rancho Santa Margarita, CA 92688 | (949)858-3181 |
| | SOUTH COUNTY Pet Emergency & Specialty Center | 885 Canarios Court Chula Vista CA 91910 | (619)591-4802 |
| | Stiern Veterinary Hospital | 17 Monterey St, Bakersfield, CA 93305 | (661)327-5571 |
| | Sweetwater Veterinary Clinic | 33324 Agua Dulce Canyon Road Agua Dulce, CA 91350 | (661)268-8128 |
| | TEARS | 24359 Del Amo Rd, Ramona, CA, United States | AMPA Veterinary Outreach Member 760-443-6803 |
| | Tri County Mobile Veterinary Service | 34077 County Road 25 Woodland, CA 95695 | 530-666-6171 |
| | Tri-County Veterinary Hospital | 2675 Pacheco Pass Hwy. Gilroy, CA 95020 | (408) 848-8886 |
| | University of California: Large Animal Clinic | 1 Garrod Dr Davis CA 95616 | (530)752.0290 |
| | VCA West Los Angeles Animal Hospital | 1900 S Sepulveda Blvd Los Angeles, CA 90025 | (310)473-2951 |
| | Veterinary Angels Medical Center | 29348 Roadside Dr Agoura Hills, CA 91301 | (818)865-1800 |
| | Veterinary Medical Associates | 204 W. Granger Ave Modesto, CA | (209)527-5855 |
| | Village Veterinary Clinic | 3883 Constellation Rd Lompoc, CA 93436 | (805)733-3548 |
| | Yorba Regional Animal Hospital | 8290 Crystal Dr. Anaheim, CA | (714)921-8700 |
| | Zambrano Consulting Mobile Services | 10550 Western Ave #126 Stanton, CA 90680 | (714)254-7974 |
| | Algonquin Animal Hospital | 181 Algonquin Blvd West Timmins, ON P4N 2R6 canada | (705)264-1890 |
| | Atlantic Vet College Prince Edward Island | 550 University Ave Charlottetown, PE Canada C1A 4P3 | (902) 566-0999 |
| | Barnett Vet Service | 186 County Rd 27 W Essex, ON canada | (519)776-7248 |
| | Calgary North Veterinary Hospital | 4204 4th Street NW, Calgary, AB, T2K1A2 canada | (403)277-0135 |
| | Dawson Creek Veterinarian Clinic | 238 116 Ave, Dawson Creek, BC V1G 3C8, canada | (250)782-1080 |
| | Dean Veterinary Hospital | 10435 Islington Ave Kleinburg ON LOJ 1CO canada | (905)893-7068 |
| | Dunnville Vet Clinic | 110 Ramsey Drive Dunnville, ON N1A 1KB canada | (905)774-7642 |
| | Ferris Lane Animal Hospital | 133 Ferris Lane Barrie, Ontario, L4M 2Y1 | 705 726 2322 |
| | Georgina Veterinary Clinic | Box 642, 25914 Hwy # 48 Sutton, ON L0E 1R0 canada | (905)722-6571 |
| | Ivy Vet Services | 7994 9th Line, RR3 Thornton, ON L0L 2N0 canada | (705)424-8878 |
| | Lane Vet Services | 211 McQuay Street RR3 Yarker, ON K0K 3N0 canada | (613)358-2833 |
| | McKenzie Veterinary Services | 3888 Carey Rd. Victoria, BC V8Z 4C9 canada | (250)782-5616 |
| | Ontario Vet College Animal Hospital | 28 College Avenue West, Guelph canada | (519)823-8830 |
| | South-East Veterinary Clinic | 36016 Hwy 52 East, Steinbach, MB R5G 1P5, Canada | 204-326-9849 |
| | UNCAS Vet Clinic | 265-52307 Range Road 213 Sherwood Park Alberta T8G 1C1 canada | (780) 922-5447 |
| | University of Saskatchewan | 52 Campus Drive, Saskatoon, SK S7N 5B4 canada | (306)966-7178 |
| | Wellesley Vet Clinic | 3580 Nafziger Road Wellesley, ON N0B 2T0 canada | (519)656-2200 |
| | Amigo Animal Clinic | 586 25 Rd Grand Junction CO 81505 | (970)245-0210 |
| | Arrowhead Vet Clinic | 1620 L Rd Fruita, CO 81521 | (970)858-8881 |
| | Aspen Creek Vet Hospital | 23605 Oehlmann Park Rd Conifer, CO 80433 | (303)697-4864 |
| | Aspen Creek Vet Hospital | 586 25 Rd rand Junction CO 81505 | (970)245-0210 |
| | Aurora Animal Hospital | 20250 E. Smoky Hill Road Centennial, CO 80015 | (303) 680-7305 |
| | Colorado Equine Veterinary Services | 16985 Hanks Grove Peyton CO 80831 | (719)749-9500 |
| | Colorado State University | 300 W Drake St Fort Collins, CO 80523 | (970) 297-4471 |
| | Homeward Bound Animal Hospital | 7521 Indiana St, Arvada, CO 80007 | (303)981-4663 |
| | Living Springs Veterinary Care | 820 Sharis Ct, Bennett, CO 80102 | (303)644-3337 |
| | Mesa Veterinary Clinic | 1124 20th Ln, Pueblo, CO 81006 | (719)542-6075 |
| | Mountain Rose Veterinary Services | 4177 Clifton Ct Boulder, Colorado | (720) 441-4512 |
| | Mountain Shadow Vet | 9171 Hwy 50 West Salida CO 81201 | (719)539-2533 |
| | Nelson Road Veterinary Clinic | 8875 Nelson Rd, Longmont, CO 80503 | (303)678-8387 |
| | Strasburg Veterinary Clinic | 56151 E Colfax Ave, Strasburg, CO 80136 | (303) 622-4415 |
| | Three Peaks Veterinary mobile vet service | Elizabeth, CO | (303) 683-4634 |
| | Roaring Brook Veterinary Hospital | 60 Lovely St. Canton, CT 06019 | (860)693-0214 |
| | Bethany Vet Hospital | 782 Amity Rd Bethany CT | (203)393-3650 |
| | Bolton Vet Hospital | 222 Boston Turnpike Bolton CT | (860)646-6134 |
| | Coastal Valley Vet Services | PO Box 1015 Old Lyme, CT 06371 | (860)867-6367 |
| | Country Companions Veterinary Services, LLC | 116 Old Amity Rd, Bethany, CT, United States | AMPA Veterinary Outreach Member 203-393-7387 |
| | Green Valley Veterinary Services | 122 Atwoodville Rd, Mansfield Center, CT 06250 | (860)420-5002 |
| | Green Valley Veterinary Services | 122 Atwoodville Rd Mansfield Center, CT 06250 | 860-420-5002 |
| | Old Lyme Vet Hospital | 1 Davis Rd West Old Lyme Ct 06371 | (860)434-8387 |
| | Plainfield Animal Hospital | 1100 Norwich Rd, Plainfield, CT 06374 | (860)564-7177 |
| | Roxbury Animal Clinic | 156 Baker Rd,Roxbury, CT 06783 | (860)354-8612 |
| | Salmon Brook Vet Hospital | 136 Brook St Granby, CT 06035 | (860)653-7238 |
| | Veterinary Emergency Center | 135 Dowd Avenue, Canton, CT 06019 | (860)693-6992 |
| | All Creatures Veterinary Service Mobile Vet | 6902 Milford-Harrington Hwy Harrington, DE 19952 | (302)258-8160 |
| | Kirkwood Animal Hospital | 1501 Kirkwood Highway Newark Delaware 19713 | (302)737-1098 |
| | New London Veterinary Center | 437 New London Rd, Newark, DE 19711 | (302)738-5000 |
| | WINDCREST ANIMAL HOSPITAL | 3705 Lancaster Pike Wilmington, DE 19805 | (302)998-2995 |
| | Crill And Palm Veterinary Hospital | 3201 Crill Ave, Palatka, FL 32177 | (386)328-9616 |
| | DeLand Animal Hospital | 598 N Woodland Blvd DeLand, FL 32720 | (386)734-1802 |
| | Floral City Animal Clinic | 4599 S Florida Ave Inverness, FL | (352)860-2441 |
| | Marcum Road Animal Hospital | 131 Marcum Rd, Lakeland, FL 33809 | (863)858-1718 |
| | A Pet's Place of Clearwater | 410 S. Pegasus Ave. Clearwater, FL 33765 | (727)461-4393 |
| | Advanced Pet Care | 7331 Spring Hill Dr, Spring Hill, FL, United States | AMPA Veterinary Outreach Member 352-835-7997 |
| | All Animal Health Clinic | 2620 E 15th St Panama City , FL 32405 | (850)726-0838 |
| | All Pets Clinic | 14445 E State Rd 70, Lakewood Ranch, FL 34202 | (941)751-1200 |
| | Aloha Pet & Bird Hospital | 968 E. Eau Gallie Blvd Indian Harbour Beach, FL 32937 | (321)777-6444 |
| | Animal Clinic AT Southside | 3012 James L Redman Pkwy, Plant City, FL 33566 | (813)707-0520 |
| | Animal Health Clinic | 5500 Military Trail #40, Jupiter, FL 33458 | (561)799-7717 |
| | Animal Medical Hospital | 2540 30th Ave N, St. Petersburg, FL 33713 | (727)896-7127 |
| | Arcadia Animal Hospital Inc | 2847 SE Norman Ave Arcadia, FL 34266 | (863) 494-5566 |
| | Ark Animal Hospital | 12585 Phillips Highway Jacksonville, Florida 32256 | 904-886-2751 |
| | Atlantic Veterinary Hospital | 11633 Philips Hwy, Jacksonville, FL 32256 | (904)738-8391 |
| | Bayou Vet Hospital | 8214 Belcher Rd Pinellas Park FL 33781 | 727-548-8387 |
| | Big Cypress Animal Clinic | 11363 Tamiami Trail E, Naples, FL 34113 | (239)774-2233 |
| | Black Creek Vet Hospital | Middleburg, FL, United States | (904) 282-0499 |
| | Boyette Animal Hospital | 10931 Boyette Rd, Riverview, FL 33569 | (813)671-3400 |
| | Broward Avian & Exotic Animal Hospital | 1101 S Powerline Rd #108 Deerfield Beach, FL 33442 | 954-968-7171 |
| | Care Animal Hospital | 511 E Bloomingdale Ave Brandon Fl 33511 | 813-684-7387 |
| | Citrus Animal Clinic | 270 US-27, Lake Placid, FL 33852 | (863)465-2176 |
| | Clay Duval Mobile Veterinary Services | 1211 Hatcher Rd, Middleburg, FL 32068 | (904)887-7943 |
| | Cleveland Heights Animal Hospital | 3710 Cleveland Heights Blvd, Lakeland, FL 33803 | (863)646-2995 |
| | Companion Animal Hospital | 3815 US-1, Cocoa, FL 32926 | (321)631-2933 |
| | Countryside Animal Clinic | 3628 N Lecanto Highway Beverly Hills, FL 34465 | (352)746-7171 |
| | Dade City Animal Clinic | 13117 US Hwy 301 South Dade City FL 33525 | (352)567-2669 |
| | DAVID STELLING DVM | 8411 SW 201ST ST MIAMI, Florida, 33189 | (305)278 2028 |
| | Davis Mark P DVM | 2847 SE Norman Ave Arcadia, FL 34266 | (863)494-5566 |
| | Donald Kanfer DVM | 1676 Ridgewood Hamm, DeLand, FL 32720 | (386)734-1763 |
| | Dunnellon Animal Hospital | 2238 W Dunnellon Rd Dunnellon FL 34433 | (352)489-2074 |
| | Ehrlich Animal Hospital | 8009 Gunn Hwy, Tampa, FL 33626 | (813)920-0566 |
| | Exotic Pet Veterinary House Calls Services | PO Box 814886, Hollywood, FL, 33021 | (954)458-8639 |
| | Exoticare Veterinary Services | 8821 SW 136th St, Miami, FL, United States | AMPA Veterinary Outreach Member 3053304429 |
| | Florida Veterinary League | 1360 US HWY 1 Suite 1 Vero Beach, FL 32960 | (772)567-3070 |
| | Forest Lakes Animal Clinic | 3622 Webber St Sarasota,FL 34232 | (941)923-3861 |
| | Harmony Animal Hospital | 1401 W. Indiantown Rd Jupiter, FL 33458 | (561)746-5501 |
| | Heartland Large Animal Services | Bartow, FL | (863) 537-1495 |
| | High Springs Animal Hospital | 17925 US 441 High Springs, FL 32643 | 386-454-1001 |
| | Hillman Veterinary Clinic | 2101 N Palafox St, Pensacola, FL 32501 | (850)433-2812 |
| | Homestead Animal Hospital Project PetSnip | 1250 N. Flagler Avenue Homestead, FL 33030 | (305)387-0721 |
| | Interlachen Animal Hospital | 5482 Lake Howell Rd Winter Park, FL 32792 | (407)679-7100 |
| | Lake Wales Veterinary Hospital | 520 E Mountain Lake Cutoff Rd, Lake Wales, FL 33859 | (863)676-1451 |
| | Large Animal Hospital UF College of Vet Medicine | 2147 Shealy Dr Gainsville, FL 32610 | (352)392-2229 |
| | Levy Animal Clinic | 505 Southwest 7th Street Williston, FL 32696 | (352)528-4840 |
| | Lund Animal Hospital | 7401 North Federal Highway Suite A1-A5 Boca Raton, FL 33487 | (561)998-5863 |
| | Mandarin Veterinary Clinic | 11587 San Jose Blvd. Jacksonville, FL 32223 | (904) 268-8880 |
| | Milton Animal Hospital | 4282 Avalon Blvd Milton, FL 32583-2808 | (850) 623-6780 |
| | My Pets Animal Hospital | 2225 Drane Field Rd, Lakeland, FL 33811 | (863)646-3669 |
| | Northwood Oaks Veterinary Hospital | Gainsville, FL | (352) 373-7387 |
| | Orchid Springs Animal Hospital | 615 Overlook Dr, Winter Haven, FL 33884 | (863)324-6964 |
| | Outback Animal Hospital | 224 Commonwealth Ave N, Polk City, FL 33868 | (863)984-4123 |
| | Panhandle Veterinary Services | 900 Falling Waters Rd Chipley, Florida 32428 | 850-638-4857 |
| | Paws and Claws Medical Center | 3858 SW 137 Avenue MIAMI, FL | 7863619344 |
| | Planco Veterinary Care | 11924 Forest Hill Blvd #9, Wellington, FL 33414 | (561)795-9507 |
| | Project Pet Snip, a 501(c)3 Not-For-Profit Organization | Miami, Florida | 305-387-0721 |
| | Safe Harbor Animal Hospital | 820 Creighton Rd, Pensacola, FL 32504 | (850)476-5571 |
| | San Francis Veterinary Hospital | 16901 Shady Hills Rd, Spring Hill, FL 34610 | (352)848-0940 |
| | Santa Cruz Animal Clinic Inc | 431 W Robertson St, Brandon, FL 33511 | (813)685-7751 |
| | Seminole Boulevard Animal Hospital | 12120 Seminole Blvd, Largo, FL 33778 | (727)587-0200 |
| | Shelton Veterinary Clinic Elkton Clinic | 4865 SR 207 Elkon, FL 32033 | (904)692-3935 |
| | South Beach Animal Hospital Project PetSnip | 1874 West Ave. Miami Beach, FL 33139 | (305)387-0721 |
| | South Kendall Animal Hospital | 9501 SW 160th St, Miami, FL 33157 | (305)290-3426 |
| | South Trail Animal Hospital | 15472 S Tamiami Trail, Fort Myers, FL 33908 | (239)481-3525 |
| | SPCA Suncoast | New Port Richey, FL | (727) 849-1048 |
| | Starke Veterinarian | 10334 SE State Road 100 Starke, FL 32091 | (904)964-5569 |
| | Sumter Mobile Veterinarian | Sumter, Lake, and Marion Counties Central Florida 33513 | (352)638-5001 |
| | SUNSET MEADOWS VETERINARY CLINIC | 15114 NW 32ND AVENUE NEW BERRY, Florida 32669 | (352)332-3063 |
| | Templeton & Franklin Vet Associates | 23700 SW 167th Ave, Homestead, FL 33031 | (786)243-9488 |
| | The Mobile Animal Hospital | Sarasota, FL 34230 | (941)526-8046 |
| | Three Oaks Vet clinic | 7059 Broad St Brooksville FL 34601 | 352-797-7777 |
| | Trenton Animal Hospital | 603 N Main St, Trenton, FL 32693 | (352)463-7100 |
| | University Animal Clinic | 8239 Cooper Creek Blvd, Bradenton, FL 34201 | (941)355-7707 |
| | University of Florida College of Veterinary Medicine | 2147 Shealy Drive Gainesville, FL 32608 | (352)392-2229 |
| | Walden Lake Animal Clinic | 802 S Alexander St, Plant City, FL 33563 | (813)754-1834 |
| | Wells Road Veterinary Medical Center | 1447 Wells Rd, Orange Park, FL 32073 | (904)278-0600 |
| | Williamson Reese DVM | 3798 Poverty Creek Rd Crestview FL 32539 | (850)689-2295 |
| | Los Robles Animal Hospital | 1314 Thomasville Rd Tallahassee, Florida | (850) 222-3117 |
| | Animal Medical Hospital | 1521 Russell Pkwy Warner Robins, GA 31088 | (912)923-8800 |
| | Atlanta West Animal Hospital | 102 Thomas Dorsey Dr Villa Rica, GA 30180 | (770) 459-2253 |
| | Barber Creek Vet Hospital | 1471 Epps Bridge Road Bogart, Georgia 30622 | (706)549-7387 |
| | Bowden Animal Hospital | 145 City Hall Ave Bowden Ga 30108 | 770-258-3256 |
| | Browns Bridge Animal Hospital | 2305 Browns Bridge Rd Gainesville GA 30504 | 770-536-8831 |
| | Budget Vet | 3155 Irwin Bridge Rd Conyers, GA 30012 | (770)679-1730 |
| | Cairo Animal Hospital | 1646 US-84, Cairo, GA 39827 | (229)377-1803 |
| | Catoosa Veterinary Clinic | 3150 Boynton Dr Ringggold, GA 30736 | (706) 937-4171 |
| | Creekwood Vet Service | 3610 Creekwood Trail Loganville, GA 30052 | 770-451-0071 |
| | Cumming Veterinary Clinic | 4110 N Old Atlanta Road Cumming, GA 30040 | (770)887-3119 |
| | Dogwood Park Animal Clinic | 6100 Columbia Rd, Grovetown, GA 30813 | (706)541-2911 |
| | Eatonton Vet Service | 659 Madison Rd Eatonton GA | 706-485-4017 |
| | Gordon Animal Clinic | 2686 Dennard Hardy Rd, Gordon, GA 31031 | (478) 628-5376 |
| | Hiram Animal Hospital | 1019 Douglasville Hwy / Hwy 92 Hiram, GA 30141 | (770)439-1117 |
| | Hoschton Animal Hospital | 3434 Hwy 53 Hoschton GA 30548 | 706-654-1111 |
| | McDonough Animal Hospital | 123 Jonesboro Rd, McDonough, GA 30253 | (770)957-3927 |
| | Moblie Vet: DR Travis Collins | 2579 Hickory Cove Lilburn, GA 30047 | (770)469-5065 |
| | Murray County Vet Services | 344 Duvall Rd Chatsworth GA 30705 | 706-695-4691 |
| | Nathans Ark Mobile Veterinarian | 2804 Lavista Rd Decatur, GA | (404)218-2776 |
| | Ocoee Animal Hospital | 88 All Creatures Pl, Blue Ridge, GA 30513 | (706)632-7387 |
| | Ogeechee Veterinary Associates | 1076 GA-24, Louisville, GA 30434 | (478)625-3021 |
| | Old Capitol Pet Care | Milledgeville, Georgia | 912-453-0288 |
| | Philema Animal Clinic | 1491 Philema Rd S Leesburg, GA 31763 | (229)439-2266 |
| | Reidsville Veterinary Clinic | US Highway 280 E Reidsville, GA | 912-557-4993 |
| | Richmond Hill Animal Hospital | 10400 Ford Ave Richmond Hill GA 31324 | (912)756-3999 |
| | Riverview Veterinary Hospital | 3300 Cobb Pkwy #102 Atlanta, Georgia 30339 | 770-956-8004 |
| | Robert T Sanders Dvm | 4695 Atlanta Hwy Loganville, Walton GA 30052 | (770)554 9060 |
| | Royston Animal Hospital | 2888 W Main St Royston GA 30662 | (706)245-6650 |
| | Sawnee Animal Clinic | 1826 Canton Highway, Cumming, GA, United States | AMPA Veterinary Outreach Member 770-887-1900 |
| | Senoia Animal Hospital and Pet Resort | 7285 Hwy. 16, Suite J Senoia, GA 30276 | 770-599-0222 |
| | Statesboro Bulloch Regional Vet | 23608 US-80, Statesboro, GA 30458 | 912)764-1001 |
| | UGA Veterinary Medical Center | 2200 College Station Road Athens, GA | (706)542-3223 |
| | Villanow Animal Clinic | 3148 GA-201, LaFayette, GA 30728 | (706)397-8226 |
| | Animal Care Hospital & Wellness Center | 4640 Lower Kula RdKula, HI 96790 | (808)876-1000 |
| | Rod L. Pearson | 45-608 Kamehameha Highway Kaneohe, HI 96744 | (808)236-2414 |
| | Veterinary Associates | 64-5161 Mana Road Kamuela HI 96743 | (808)885-7941 |
| | Iowa State University College of Veterinary Medicine | 2503 Vet Med, 1600 S 16th St, Ames, IA 50011 | (515) 294-1250 |
| | Fleur Pet Hospital | 4524 Fleur Drive Des Moines IA 50321 | 515-285-1297 |
| | ISU College of Veterinary Medicine Lloyd Veterinary Medicine Center | 1600 South 16th Street, Ames, IA 50011 | (515) 294-1500 |
| | Orange City Veterinary Clinic | 1601 8th St SE, Orange City, IA 51041 | (712)737-4474 |
| | Perry Animal Clinic | 14580 J Ave, Perry, IA 50220 | (515)465-5626 |
| | Shelby Vet Clinic | 305 Center St. Shelby IA 51570 | 800-947-1662 |
| | Somerset Veterinary Hospital | 2721 Stange Rd #108, Ames, IA 50010 | (515)292-0400 |
| | Walcott Vet Clinic | 106 E Durant St Walcott IA 52773 | 563-284-6233 |
| | Winterset Veterinary Center | 315 E Madison Winterset, IA 50273 | (515)462-2650 |
| | Blayney Vet Clinic | 3825 E Clevland Caldwell ID 83605 | 208-459-6167 |
| | Eastside Pet Clinic | 285 S Woodruff Ave Idaho Falls, Idaho 83401 | 208-529-2217 |
| | Idaho Veterinary Hospital | 1420 North Midland Boulevard, Nampa, ID, United States | 208-466-4614 |
| | North Polouse Vet Clinic | RT #1 Box 216 Hwy 6 Potlatch ID 83855 | 208-875-1096 |
| | Advanced Veterinary Care, LLC | 700 W Wabash Avenue Effingham, IL 62401 | (217)347-2838 |
| | Animal Hospital of Gurnee | 38028 N Dilleys Rd, Wadsworth, IL 60083 | (847)360-1630 |
| | Animal Medical Center OF Crystal Lake | 41 S Virginia St, Crystal Lake, IL 60014 | (815)455-0770 |
| | Arlington- Golf Animal Hospital | 1900 S. Arlington Heights Rd. Arlington Heights, IL 60005 | (847)364-0400 |
| | Beagle's Bay Animal Hospital | 7 Jon St, Metropolis, IL 62960 | (618)524-1817 |
| | Bronzeville Animal Clinic | 203 E 31st St, Chicago, IL 60616 | (312)949-1838 |
| | Countryside Vet Service | 201 South Water St Taylorville IL 62568 | 217-824-3051 |
| | Crestline Vet Clinic | 1591 Beech Tree Rd Charleston IL 61920 | 217-345-5844 |
| | Crestline Veterinarian Clinic LTD | 1591 Beech Tree Rd, Charleston, IL 61920 | (217)345-5844 |
| | Dunlap Veterinary Clinic | 4620 W Cedar Hills Dr, Dunlap, IL 61525 | (309)243-7784 |
| | Forest South Animal Hospital | 24341 Western Ave, University Park, IL 60484 | (708)672-6166 |
| | Fort Russell Veterinary Services | 6185 Old Alton Edwardsville Rd, Edwardsville, IL 62025 | (618)656-9525 |
| | Greenville Veterinary Clinic | 1720 E City Rte 40, Greenville, IL 62246 | (618)664-0640 |
| | Higgins Animal Clinic | 1705 W Belmont Chicago, IL 60657 | (773)525-0472 |
| | Hilltop Animal Hospital | 597. W Lake Cook Rd Palatine, IL 60074 | (815)345-5943 |
| | Horseshoe Lake Animal Hospital | 5230 Horseshoe Lake Rd Collinsville IL 62234 | 618-344-7949 |
| | Huston Vet Services | 500 Illinois 116 Roseville IL 61473 | 309-426-2419 |
| | Hyde Park Animal Clinic | 1363 E 53rd St, Chicago, IL 60615 | (773)324-4484 |
| | Indian Prairie Animal Hospital | 1195 S Frontenac St, Aurora, IL 60504 | (630)820-6999 |
| | Northgate Pet Clinic | 2800 N Martin Luther King Jr Dr, Decatur, IL 62526 | (217)877-4393 |
| | Orangeville Animal Health Service | 300 Samuelson Dr, Orangeville, IL 61060 | (815)789-4558 |
| | Thompsonville Veterinary Clinic | 21325 Shawnee Town Rd Thompson Ville IL | 618-627-2222 |
| | Pet Wellness Center | 8257 Express Dr Marion IL 62959 | 618-993-2273 |
| | Pet Wellness Center | 11989 Route 37 Marion IL 62959 | 618-993-3722 |
| | Rescued Heart Animal Hospital | 3521 Broadway St, Pekin, IL 61554 | (309)346-2330 |
| | River Heights Veterinary Hospital | 5580 US-34, Oswego, IL 60543 | (630)554-3400 |
| | University of Illinois | 1008 W Hazelwood Dr Urbana Il 61802 | (217)333-5300 |
| | Wheeling Animal Hospital | 532 S. Elmhurst Rd. Wheeling, IL 60090 | (847)520-7387 |
| | Airport Animal Hospital | 1274 Indiana 46 Terre Haute, IN 47803 | 812-877-3087 |
| | Akron Vet Clinic | 13438 Indiana 114 Akron, IN 46910 | (574) 893-4028 |
| | All Wild Things Exotic | 6058 N. Keystone Ave Indianapolis, IN 46220-2422 | 317-255-9453 |
| | Avian & Exotic Animal Clinic | 9330 Waldemar Rd Indianapolis IN 46268 | 317-879-8633 |
| | Blooming Paws Vet | 3409 S Walnut St Bloomington IN 47401 | 812-330-7297 |
| | Brownstown Animal Hospital | Brownstown, Indiana | 812-358-2947 |
| | Crossroads F.A. Vet Mobile Practice Service | PO Box 1444 Middlebury, IN 46540 | (574)606-7280 |
| | DuPont Veterinary Clinic at Coldwater | Ft Wayne, IN 46845 | 260-637-7676 |
| | Eaton Veterinary Clinic | 17401 IN-3, Eaton, IN 47338 | (765)396-9181 |
| | Goshen Animal Clinic | 2806 S Main St, Goshen, IN 46526 | (574)533-0535 |
| | Greenwood Veterinary Clinic | 3013 Indiana 28 West Lebanon, IN 47991 | (765) 893-4415 |
| | Herrmann Veterinary Clinic | 2512 Cicero Rd, Noblesville, IN 46060 | (317)313-8760 |
| | Highland Animal Hospital | 9308 Indianapolis Blvd Highland, IN 46322 | (219)924-5050 |
| | Hillview Veterinary Clinic | Franklin, Indiana | (317)736-8880 |
| | Honey Creek Animal Hospital | 3263 South 3rd Place Terre Haute IN 47802 | (812)234-7752 |
| | Large Animal Hospital | 625 Harrison Street West Lafayette, IN 47907 | 765-494-8548 |
| | Mc Donald Veterinary Clinic | 7749 US-150, Hardinsburg, IN 47125 | (812)472-3103 |
| | Milford Animal Clinic | 913 N Higbee St Milford, IN 46542 | 574-658-4126 |
| | Moore Animal Clinic | 3751 W State Road 60 Salem, IN | 812-883-3666 |
| | Olive Branch Parke Veterinary Clinic | Olive Branch Parke Ln, Greenwood, IN 46143 | (317)887-8387 |
| | Royer Vet Services | 118 S Commerical St Worthington IN 47471 | 812-875-8866 |
| | Seymour Animal Hospital | 5817 West Tipton St Seymour IN 47274 | (812)522-2178 |
| | Town & Country Veterinary Clinic | 3140 N. Smith Pike Bloomington, IN 47404 | 812-332-1429 |
| | Warrick Vet Clinic | 186 Indiana 261 Boonville, IN 47601 | (812)897-4855 |
| | Windermere Animal Hospital | 9785 Olympia Dr, Fishers, IN 46037 | (317)841-1846 |
| | Kansas State University Veterinary Health Center | 1800 Denison Ave. Manhattan, KS 66506 | (785)532-5700 |
| | Animal Medical Center | 622 McKinley St, Great Bend, KS 67530 | (620)792-1265 |
| | Atchison Animal Clinic | 908 Commercial St, Atchison, KS 66002 | (913)367-0427 |
| | Auburn Animal Clinic | 8370 SW Auburn Rd, Auburn, KS 66402 | (785)256-2476 |
| | Baldwin Junction Veterinary Mobile Service | 1274 N 650 Rd, Lawrence, KS 66046 | (785)594-3124 |
| | Blair Doon Veterinary Hospital | 10804 E 31st St S, Wichita, KS 67210 | (316)685-7300 |
| | Cimarron Animal Hospital | 6011 E 21ST ST N, WICHITA, KANSAS 67208 | (316)686-4713 |
| | Countryside Veterinary Associates | 2900 Main St, Great Bend, KS 67530 | (620)792-2551 |
| | Frick Veterinary Services | 1112 K-19 Hwy S Larned, KS 67550 | (620)285-5267 |
| | Heartland Veterinary Clinic | 1120 W. Kansas Ave McPherson, KS 67460 | (620) 241-3662 |
| | Hi-Plains Veterinary Services | 1503 E 1st St, Pratt, KS 67124 | (620)672-5988 |
| | Hoxie Veterinary Service | N., 1367 KS-23, Hoxie, KS 67740 | (785)675-3378 |
| | Indian Hills Animal Clinic | 3223 W 13th St N, Wichita, KS 67203 | (316)942-3900 |
| | Louisburg Animal Clinic | 704 W Amity St, Louisburg, KS 66053 | (913)837-5341 |
| | Northridge Veterinary Clinic & Rehabilitation | 3233 N Ridge Rd, Wichita, KS 67205 | (316)260-2229 |
| | Oskaloosa Animal Clinic | 10605 McCall Dr, Oskaloosa, KS 66066 | (785)863-3275 |
| | Prairie Vista Veterinary Hospital | 801 N Main St, South Hutchinson, KS 67505 | (620)669-1253 |
| | Rose Hill Veterinary Clinic | 110 N Rose Hill Rd, Rose Hill, KS 67133 | (316)776-0040 |
| | Elk Creek Animal Hospital | 57 Commerce Drive, Fisherville, KY 40023 | (502) 477-1477 |
| | All Pets Vet Center | 1219 Dorsey LaneLouisville, KY | (502)384-0551 |
| | Bach Veterinary Clinic | 12109 Madison Pike Independence, Kentucky 41051 | (859) 356-8883 |
| | Bluegrass Animal Healthcare | 507 Brookhaven St Mayfield, KY | 270-247-7387 |
| | Bulitt Co. Vet Center | 3026 Ky 44 Shepherdville, KY 40165 | 502-543-3001 |
| | Crowning Point Farm | 961 Russell Cave Road Paris, Kentucky 40361 | (859)988-0201 |
| | Cummings Vet Clinic | 3800 Clarks River Rd Paducah, KY | (270) 443-7541 |
| | Dr. Scott Blair | Custer, KY, United States | 270-688-5451 |
| | Flanary Vet Clinic | 200 Eagle's Nest Dr Paducah, KY 42003 | (270)898-9738 |
| | Glasgow Veterinary Medical Center | 629 Grandview Ave, Glasgow, KY 42141 | (270)651-5444 |
| | Grants Lick Vet Hospital | 13169 Alexandria Pike Butler KY 41006 | 859-635-4138 |
| | Greater Cincinnati Veterinary | 114 Beacon Dr. Wilder, KY 41076 | 859-572-0560 |
| | Heartland Vet Hospital | 3137 Olivet Church Rd Paducah, KY | (270) 443-9911 |
| | Larue Co Animal Clinic | 121 Shepardsville Rd Hodgenville KY 42748 | 270-358-9650 |
| | Logan Co Animal Clinic | 285 Hopkinsville Rd Russellville KY 42276 | 270-726-3511 |
| | Mayfield Vet Clinic | 501 W James St Mayfield, KY | (270) 247-2915 |
| | Midway Veterinary Clinic | 4990 Hwy 79 Brandenburg, Ky 40108 | 270-422-5151 |
| | Mill Creek Veterinary Center | 1820 Campbellsville Rd, Greensburg, KY 42743 | (270)932-5000 |
| | Rodgers Vet Clinic | 111 Masonic Dr Princeton, Ky 42445 | 270-365-9822 |
| | Roe-Burke Veterinary Services | 1022 Old Hwy 60, Hardinsburg, KY, United States | 270-756-9088 |
| | Shively Animal Clinic | 2401 Dixie Hwy Louisville KY 40216 | (502) 778-8317 |
| | Skyline Animal Hospital | 1233 Skyline Dr. Hopkinsville, Ky 42240 | 270-886-6321 |
| | Todd County Animal Clinic | 205 EAST MAIN ST. ELKTON, KENTUCKY 42220 | (270)839-9157 |
| | Wills Animal Hospital | 3030 New Hartford Rd Owensboro KY 44303 | 270-684-3201 |
| | All Creatures Animal Care | 1406 Thomas Road West Monroe LA 71292 | (318)362-7387 |
| | All Creatures Animal Hospital | 220 N Lewis St New Iberia LA | 337-365-9060 |
| | Amite Animal Clinic | 60068 Thomas Rd, Amite, LA 70422 | (985)748-5551 |
| | Azalea Lakes Veterinary Clinic | 15225 Jefferson Hwy, Baton Rouge, LA 70817 | (225)755-3838 |
| | Barca D Allison, DVM | 81005 Robinson Road Folsom, LA 70437 | (985) 796-1574 |
| | Brandon Veterinary | Leesville, Louisiana | 337-239-0226 |
| | Carson Vet Clinic | 6701 Johnston St Lafayette LA 70503 | 337-981-7998 |
| | Cooper Vet Clinic | 5234 Cypress St West Monroe LA 71291 | 318-396-8099 |
| | Desoto Veterinary hospital | 7719 Highway 171, Grand Cane, Louisiana 71032 | (318)858-3328 |
| | Dodge City Veterinary Hospital | 142 Hatchell Ln Denham Springs, LA 70726 | (225)664-6441 |
| | Franklinton Vet Clinic | 525 11th Ave Franklinton LA 70438 | 985-839-3406 |
| | LSU SVM | S Stadium Dr & River RD Baton Rouge, LA 70803 | 225-578-9500 |
| | Maurice Vet Clinic | 4080 Beau Road, Maurice, LA 70555 | (337)385-2030 |
| | Montgomery Animal Clinic | 4116 Lousiana 28 Pineville LA 71360 | 318-473-8177 |
| | Morris Veterinary Hospital | 1047 US-425, Rayville, LA 71269 | (318)728-5599 |
| | Northside Veterinary Hospital | 440 Highway 13 Eunice, LA 70535 | (337) 457-9999 |
| | Northwest Louisiana Veterinarian Hospital | 1808 Jimmie Dr Hwy Bossier City, LA 71112 | 318-747-5660 |
| | Odom Vet Hospital | 160 N Spillway Rd Farmerville, LA 71241 | (318)368-6060 |
| | Ridgefield Animal Hospital | 919 Percy Brown Road Thibodaux, LA 70301 | (985)446-8824 |
| | All Pets Medical Center | 16 Waterhouse Rd Bourne Ma 02532 | 508-743-8338 |
| | Amesbury Animal Hospital | 277 Elm St, Amesbury, MA 01913 | (978)388-3636 |
| | Driftway Animal Hospital | 53 New Driftway Scituate, Massachusetts 02040 | (781)545-0952 |
| | Marion Animal Hospital | 303 Wareham Road Marion, MA 02738 | (800)279-6724 |
| | Norton Animal Clinic | 147 W Main St, Norton, MA 02766 | (508)285-9822 |
| | Oceanside Animal Hospital | 95 MA-6A, Sandwich, MA 02563 | (508)744-3838 |
| | Roger Deltaan | Haverhill, Massachusetts | (978)521-1899 |
| | South Deerfield Vet Clinic | 30 Elm St South Deerfield, MA 01373 | (413)665-3626 |
| | SRH Veterinary Services | 295 High St Ipswich, MA 01938 | (978)356-1119 |
| | Tufts Medical Center | 55 Willard Street North Grafton, MA 01536 | (508)839-5395 |
| | Woburn Animal Hospital | 373 Old Russell Street Woburn, MA 01801 | (781)933-0170 |
| | All Pets Veterinary Hospital | 915 S Talbot StSaint Michaels, Maryland 21663 | (410)745-5275 |
| | Buckey's Town Vet Frederick County | 3820 Buckeystown Pike Buckeystown, MD 21717 | (301)698-9930 |
| | Calvert Animal Hospital | 1923 Skinners Turn Rd. Owings, MD 20736 | (301)855-8525 |
| | Chadwell Animal Hospital | 3004 Emmerton Road Abingdon, MD 21009 | (443)512-8338 |
| | Chestertown Animal Hospital | 10530 Augustine Herman Highway Chestertown, MD 21620 | (410)778-2455 |
| | Community Animal Hospital | 9035 Liberty Rd. Randallstown, MD 21133 | (410)220-1419 |
| | Davidsonville Vet | 3725 Tanglewood Ln Davidsonville Maryland 21035 | 410-956-5733 |
| | Hillside Animal Hospital | 17100 National Hwy Eckhart Mines, MD 21528 | (301)689-2782 |
| | Jarrettsville Veterinary Center | 3961 Norrisville Road Jarrettsville, Maryland 21084 | (410)692-6171 |
| | Marymont Animal Hospital, Inc. | 24 East Randolph Road, Silver Spring, MD, United States | AMPA Veterinary Outreach Member 301-384-1223 |
| | Noah's Ark Veterinary & Boarding Resort | 8074 Veterans Hwy Millersville, MD 21108 | (410)969-0100 |
| | North Carroll Vet Service | 1929 Albert Rill Rd, Hampstead, MD 21074 | (410)239-3713 |
| | Waldorf Emergency Care | 2215 Crain Hwy Waldorf, MD 20601 | (301)705-9700 |
| | Animal Medical Clinic | 413 North Ave Skowhegan ME 04976 | 207-474-8376 |
| | Auburn Animal Center | 308 Center St Auburn ME 04210 | 207-784-2000 |
| | Kennebec Veterinary Services, Inc | 36 Highland Drive Oakland, ME 04963 | 207-465-8300 |
| | Norway Vet Hospital | 10 Main St Norway, ME 04268 | (207)743-6384 |
| | Almont Dryden Animal Clinic | 4009 Van Dyke Rd Almont, MI 48003 | (810)798-8723 |
| | Alsinger Animal Care | 44262 Warren Road Canton, MI 48187 | (734)459-5070 |
| | Anchor Bay Vet Hospital | 36755 Green St New Baltimore, MI 48047 | (586)725-7700 |
| | Animal Hospital of Lowell | 11610 E Fulton Lowell, MI | (616)897-8484 |
| | Animal Kingdom Veterinary Hospital | 4920 Anne Arbor Saline Road Anne Arbor, MI 48103 | (734)913-0003 |
| | Ark Vet Clinic | 45559 Mound Road Utica, MI 48317 | (586)731-1430 |
| | Beadle Lake Large Animal Clinic | 7115 Tower Road Battle Creek, MI 49014 | (269)441-9233 |
| | Burgman Small Animal PC | 906 E State St Cassopolis, MI 49031 | (269)445-3841 |
| | Fieldstone Veterinary Clinic | 4355 Homer Rd., Jonesville, MI 49250-1301 | (517)437-0171 |
| | Fowlerville Veterinary Clinic | 6440 W Grand River Rd Fowlerville, MI | (517)223-8812 |
| | Goodrich
Pytel Veterinary Clinic | 7485 S. State Rd P.O. Box 65 Goodrich, MI 48438 | (810)636-7387 |
| | Hart Animal Hospital | 2075 M-37 Middleville, MI 49333 | (269)795-4278 |
| | Krause Vet | 73543 S. Fulton Armada, MI 48005 | (586)784-9111 |
| | Lake Area Veterinary Group | 25232 West US Highway 12 Sturgis MI 49091 | (269)651-8395 |
| | Lakeview Veterinary Clinic | 2265 W Columbia Ave Battle Creek, MI 49015 | (269)963-1581 |
| | Mayville Animal Clinic | 5960 Fulton Street Mayville, MI 48744 | (989)843- 5030 |
| | Michigan State University Animal Hospital | 736 Wilson Road East Landing, MI 48824 | (517)353-4523 |
| | Pierson Pet Hospital | 9050 Davison Road Davison, MI 48423 | (810)658-1455 |
| | Pol Veterinary Services | 3959 W Jordan Road Weidman, MI 48893 | (989)644-5044 |
| | Richmond Vet | 10335 Gratiot Ave Columbus, MI 48063 | (586)727-9018 |
| | Sparta Animal Clinic | 431 W Division Road Sparta, MI 49345 | (616)887-8247 |
| | Town & Country Animal Hospital | 5445 S. Old US Hwy 23 Brighton, MI 48116 | (810)220-1079 |
| | West Michigan Veterinarian Service | 100 North 68th Avenue Coopersville, MI 49404 | (616)837-8151 |
| | Banfield The Pet Hospital | 320 2nd St. South, Waite Park, MN 56387 | (320)774-0507 |
| | Douglas Animal Hospital | 116 Central Ave Osseo, MN 55369 | (763)424-3605 |
| | Duluth Veterinary Hospital | 2015 London Road Duluth, MN 55812 | (218)728-3616 |
| | Mille Lacs Vet Clinic | 310 Dewey Street Foley, MN 56329 | (320)968-6677 |
| | Minnesota Valley Veterinary | 510 Doppy Lane LeSueur, Minnesota 56058 | (507)665-2371 |
| | Minnesota Veterinary Medical Association | 101 Bridgepoint Way, Suite 100 South St. Paul, MN 55075 | (651)645-753 |
| | North Country Veterinary Services | 1125 E Hwy 169 Grand Rapids, MN | 218-212-1014 |
| | Plainview Veterinary Clinic | 685 N Wabasha Plainview, MN 55964 | (507)534-3181 |
| | University of Minnesota | 1365 Gortner Ave St Paul MN 55108 | 612-625-6700 |
| | Watkins Veterinary Clinic | 415 School Ave S Watkins, MN 55389 | (320)764-7400 |
| | The Kent Veterinary Clinic | 871 US-60, Billings, MO 65610 | (417)744-2222 |
| | Allphin Veterinary Clinic | 10669 State Hwy 76 Branson West, MO 65737 | 417)272-8000 |
| | Animal Care Center | 2424 S Campbell Ave #110 Springfield, MO 65807 | (417)883-7600 |
| | Animal Clinic and Equine Center | 1376 County Road 8490 West Plains, MO 65775 | (417)256-9235 |
| | Animal Clinic Of Ava | 1115 NW 12th Ave. Ava, MO 65608 | (417)683-6830 |
| | Animal Clinic of Monett | 687 Hwy 37, Monett, MO, United States | 417-235-4088 |
| | Audrain Veterinary Clinic | 1624 E Liberty St. Mexico, MO 65265 | (573)581-4679 |
| | Banfield Pet Hospital | 4451 Lemay Ferry Rd, St. Louis, MO, United States | AMPA Veterinary Outreach Member 314-829-1900 |
| | Bates Creek Veterinary Clinic | 13563 State Highway P, Potosi, MO 63664 | (573)438-3666 |
| | Belton Animal Clinic | 1308 N Scott Ave Belton, MO 64012 | (816)895-7013 |
| | Brisbane Veterinary Services | 14105 Earthworks Dr Smithville, MO 64089 | (816)532-8852 |
| | Carmichael Veterinary Clinic | Billings, MO 65610 | 417-744-2222 |
| | Carroll County Veterinary Services | 1301 N US Highway 65 Carrollton, MO 64633 | (660)542-6149 |
| | Centralia Veterinary Clinic | 745 MO-22, Centralia, MO 65240 | (573)682-3312 |
| | Countryside Animal Clinic | Aurora, MO 65605 | 417-678-4011 |
| | Countryside Large Animal Veterinary Services | 4391 South 95th Road, Bolivar, MO 65613 | (417)326 2992 |
| | Desoto Veterinary Hospital | 13909 Highway 21 Desoto, MO 63020 | 636)586-3572 |
| | Equine Clinic | 3209 East Evans Road Springfield, MO65804-5365 | (417)881-1251 |
| | Fair Grove Vet Services | 5348 E State Highway Fair Grove MO | 417-759-7803 |
| | Fredericktown Animal Hospital | 1183 Business Rt. 67, Fredericktown, MO 63645 | (573) 783-2348 |
| | Gerald L Myers DVM | 20358 MO-148, Pickering, MO 64476 | (660)927-3411 |
| | Grant Avenue Pet Hospital | 1037 S Grant Ave Springfield, MO | (417)869-1581 |
| | Hermann Vet Clinic | 2094 Hwy 100 Hermann MO 65041 | 573-486-2515 |
| | Holden Animal Clinic & Supply, Inc | 709 W. 2nd St Holden, MO 64040 | (816)732-4412 |
| | Holt Animal Clinic | 495 N Cannonball Rd, Holt, MO 64048 | (816)320-3726 |
| | Howdershell Animal Clinic | 440 Howdershell Florissant MO 63031 | 314-838-3575 |
| | Ivan Animal Hospital, | 21 Walters Dr, House Springs, MO 63051 | (636) 671-0700 |
| | Krakow Vet Clinic | 3033 Hwy A Washington MO 63090 | 636-390-8387 |
| | Lee's Summit Animal Hospital | 411 SW Market, Lee's Summit, MO 64063 | (816)524-0464 |
| | Lifetime Animal Center | 227 SE State Route 13 Warrensburg, MO 64093 | (660)422-7838 |
| | Livestock Veterinary Mobile practice | 917 S. Aurora Eldon, MO 65026 | (573)392-6262 |
| | Marshfield Vet Clinic | 380 McNabb Rd Marshfield MO | 417-468-2533 |
| | Martin Veterinary Hospital, LLC | 74 Francois Dr, Herculaneum, MO 63048 | (636) 224-6224 |
| | Middletown Veterinary Services | 309 MO-161, Middletown, MO 63359 | (573)549-2977 |
| | Mo Cat & Cow Veterinary Clinic | Koshkonong, MO 65692 | 417) 867-3262 |
| | Nodaway Vet Clinic | 23664 Business Hwy 71 Maryville MO 64468 | (660)582-2300 |
| | Pet Station (spay/neuter, nails only) | 1220 W Main Union MO 63084 | 636-284-3401 |
| | Pinnacle Vet Clinic | 11444 Hammer Road Neosho, MO 64850 | (417)451-2533 |
| | Pleasant Hill Animal Clinic | 601 MO-7, Pleasant Hill, MO 6408 | (816)540-3545 |
| | Rolla Animal Hospital | 1011 Stoltz Dr Rolla MO 65401 | 573-341-2221 |
| | Seneca Veterinary Clinic | 13806 MO-43, Seneca, MO 64865 | (417)776-2801 |
| | Spragg Veterinary Clinic | 8690 E US-60 Rogersville, MO 65742 | (417)753-2417 |
| | Spring Valley Veterinary Hospital | 1700 S Enterprise Ave Springfield, MO 65804 | (417)887-0898 |
| | Springfield Equine Services | 7730 N Farm Rd 239, Strafford, MO 65757 | (417)860-5115 |
| | Sullivan Veterinary Hospital | Service Rd E Sullivan, MO 63080 | (573) 468-6774 |
| | Troy & Wentzville Veterinary Clinic | 210 North Lincoln Drive Troy, MO 63379 | (636)528-4534 |
| | University of Missouri at Columbia | 900 E Campus Dr Colombia MO 65211 | 573-882-6857 |
| | Veterinary Clinic of the Mineral Area | 4730 Flat River Rd, Farmington, MO 63640 | (573) 756-9400 |
| | Washington Vet Clinic | 5585 Hwy 100 Washington MO 63090 | 636-239-5445 |
| | All Animal Clinic | 2138 Oak Grove Rd Hattiesburg MS 38402 | 601-268-8880 |
| | Animal's Choice Veterinary Clinic | 200 County Rd 197, Iuka, MS 38852 | (662)423-2686 |
| | Cameron Animal Hospital | 17186 Highway 51 Hazelhurst, MS 39083 | (601)894-2411 |
| | Hometown Veterinary Service | 1010 HWY 471 Brandon, MS 39042 | (601)825-1697 |
| | Iuka Animal Clinic | 2389 Veterans Memorial Dr Iuka, MS 38852 | (662)423-3470 |
| | Mobile Vet Services LLC | 17342 Hwy 53 Gulfport, MS 39503 | (228)831-9123 |
| | Poplarville Animal Hospital | 804 US 11 Poplarville MS | 601-795-4535 |
| | Spay & Neuter Clinic of Southern Pines Animal Shelter | 1304 Hardy ST. Hattiesburg, MS 39401 | (601)544-5678 |
| | Veterinary Mobile Medical Services | 8102 Red Creek Road, Long Beach, MS 39560 | (228)209-2352 |
| | Amherst Animal Hospital | 2330 Amherst Ave. Butte Montana 59701 | (406)494-4044 |
| | Big Sky Animal Medical Center | 5101 N Star Blvd, Great Falls, MT 5940 | (406)761-8387 |
| | Conrad Vet Hospital | 307 N Maine St Conrad MT 59425 | 406-278-3236 |
| | Glacier Animal Hospital | 511 2nd Ave W Columbia Falls MT 59912 | 406-892-4319 |
| | Hardaway Veterinary Hospital | 5650 Jackrabbit Ln. Belgrade, MT 59714 | (406)388-8387 |
| | Northern Veterinary Clinic | 55 US Highway 213 N, P.O. Box 118 Cut Bank, MT 59427 | (406)873-5604 |
| | Pruyn Vet Hospital | 2501 S Russel St Missoula MT 59801 | 406-829-8150 |
| | Red Barn Veterinary Service | P.O. BOX 176, Hobson, MT 59252 | (406)423 5555 |
| | Smiley Vet Services | Kalispell MT | 406-270-8576 |
| | Sorensen Veterinary Hospital | 215 Bolinger Rd. Belgrade, MT 59714 | (406)388-6275 |
| | Animal Clinic of Madison | 726 Ayersville Rd, Madison, NC 27025 | (336)427-0271 |
| | Burgaw Veterinary Hospital | 1255 US Highway 117 N Burgaw, NC 28425 | (910)259-8686 |
| | Academy Animal Hospital | 237 Western Blvd, Jacksonville, NC 28546 | (910) 353-3131 |
| | Adams Farm Animal Hospital | 5502 Adams Farm Lane Greensboro, NC, 27407 | (336)854-5980 |
| | Animal Ark Veterinary Hospital | 3515 Lawrence St, Clemmons, NC 27012 | (336)778-2738 |
| | Animal Hospital of Fayetteville | 3109 Fort Bragg Rd, Fayetteville, NC 28303 | (910)323-1535 |
| | Animal Medical Services | 1233 West Lebonan St. Mt. Airy,N.C. 27030 | (910 )786-9444 |
| | Animals R Us Vet Clinic | 725 Crest Rd Flat Rock, NC 28731 | (828)693-7387 |
| | Apex Veterinary Hospital Equine | 1600 E Williams St Apex, NC 27539 | (919)362-8879 |
| | Arcadia Veterinary Hospital | 12203 N Nc Highway 150 Winston Salem, NC 27127 | (336)775-5700 |
| | Austin Veterinary | 1550 Lennoxville Rd, Beaufort, NC 28516 | (252)838-9028 |
| | Avian & Exotic Animal Care | 8711 Fidelity Blvd Raleigh NC | 919-844-9166 |
| | Bear Creek Vet Hospital | 20492 NC Hwy 73 Albermarle NC | 704-986-0000 |
| | Bradford Animal Hospital | 211 Woodpecker Rd, Statesville, NC 28625 | (704)876-2031 |
| | Caldwell Animal Hospital | 230 Nuway Circle Lenoir, NC 28645 | (828)754-4545 |
| | Carolina Veterinary Specialists | 12117 Statesville Rd, Huntersville, NC 28078 | (704)949-1100 |
| | Davis Mobile Veterinary Service | 115 Elysian Dr, Mooresville, NC 28117 | (704)230-8814 |
| | East Lincoln Animal Hospital | 7355 Highway 73 Denver, NC 28037 | (704)827-5300 |
| | Gates County Animal Clinic | 66 Tinkham RD Erure NC 27935 | 252-357-2557 |
| | Hoof and Horn Mobile Veterinary Services | 915 Mt Pisgah Church Rd, Apex, NC 27523 | (919)999-6611 |
| | Mobile Large Animal Vet Svc | 325 S Main St Troutman, NC 28166 | (704)528-1717 |
| | Mozzachio Mobile Veterinary Services | 1101-B Lorimer Rd. Raleigh, NC 27606 | 919-413-2956 |
| | NC State Veterinary Hospital | 1052 William Moore Dr. Raleigh, NC 27607 | (919)513-6616 |
| | North Davidson Veterinary Hospital | 5042 Old U.S. 52, Lexington, NC 27295 | (336)731-6978 |
| | RIVERBARK VETERINARY HOSPITAL | 2921 Ramsey Street Fayetteville, NC 28301 | (910)822-3141 |
| | Rocky River Large Animal Veterinary Clinic | 1920 S Ridge Ave, Kannapolis, NC 28083 | (704)933-1792 |
| | Stony Point Animal Hospital | 11 Ruritan Park Rd, Stony Point, NC 28678 | (704)585-2410 |
| | Surry Animal Hospital | 926 Reeves Drive Mt. Airy, NC 27030 | (910)789-9054 |
| | Uncommon Creatures Mobile Veterinary Services | 812 South Sunset Drive, Winston-Salem, NC 27103 | (704)603-7520 |
| | Vale Veterinary Hospital | 9286 W Nc 10 Hwy, Vale, NC 28168 | (704)462-2901 |
| | Veterinary Hospital of Oak Ridge | 1726 Oak Ridge Rd Oak Ridge NC 27310 | 336-644-8789 |
| | Wilkes Veterinary Hospital | 1007 2nd St, North Wilkesboro, NC 28659 | (336)667-1109 |
| | Casselton Veterinary Services | 910 Governor's Dr Casselton, ND 58012 | (701)347-5496 |
| | Cooperstown Veterinary Clinic | 101 1st St SWCooperstown, ND 58425 | (701)797-2216 |
| | Two Rivers Vet Clinic | 3306 Cheyenne St Ste 200 West Fargo ND 58078 | 701-356-5588 |
| | Alliance Animal Clinic | 903 Flack Ave Alliance NE 69301 | 308-762-4140 |
| | Best Care Pet Hospital | 3030 L St, Omaha, NE 68107 | (402)734-1494 |
| | Chance Ridge Veterinary Hospital | 506 Skyline Rd Elkhorn, NE 68022 | (402)289-4400 |
| | Norfolk Veterinary Clinic | 500 Omaha Ave, Norfolk, NE 68701 | (402) 371-5665 |
| | Oakview Veterinary Clinic | 112 N 19th St, Beatrice, NE 68310 | (402)228-3440 |
| | Thone Animal Clinic | 902 S 19th St, South Highway 30 Blair, NE 68008 | (402)426 3630 |
| | Valley Animal Clinic | 9488 Road 99c Bridgeport, NE 69336 | (308)262-1100 |
| | Willow Creek Veterinary Service | 85420 549 Avenue Pierce, NE 68767 | (402)329-4805 |
| | Deerfield Veterinary Clinic | 150 South Rd. Deerfield, NH 03037 | (603)463-7775 |
| | Bristol Veterinary Hospital | 540 Pleasant St Bristol, NH 03222 | (603)744-5804 |
| | Claremont Animal Hospital | 446 Charlestown Road Claremont, NH 03743-9802 | (603) 543-0117 |
| | Cornerstone Veterinary Hospital | 299 Calef Hwy Epping, NH 03043 | (603)679-4339 |
| | Green Mountain Bovine & Equine Clinic | 27 Bovine Blvd, West Chesterfield NH 03466 | (603)256-8400 |
| | Pembroke Animal Hospital | 13 Sheep Davis Rd, Pembroke, NH 03275 | (603)228-0019 |
| | VCA Animal Medical Center | 1550 Woodbury Avenue Portsmouth, NH 03801 | (603)436-4922 |
| | Walpole Veterinary | 6 Walker Rd Walpole, NH 03608 | (603)756-4731 |
| | Animal Care Center | 96 Bartley-Flanders Rd Flanders, NJ 07836 | (973)584-4455 |
| | Animal Clinic of Morris Plains | 3009 State Route 10 Morris Plains, NJ 08950 | (973) 539-2775 |
| | Animal Hospital of Sussex County | 169 US-206 Augusta, NJ 07822 | (973)579-1155 |
| | Beier Veterinary Services | 825 Kings Hwy. Middleton, NJ 08056 | (856)467-1036 |
| | Belle Mead Animal Hospital | 872 US Highway 206 Hillsborough, NJ 08844 | (908)874-4447 |
| | Delaware Valley Vet Hospital | 400 Swedesboro Rd Mullica Hill NJ 08062 | 856-241-1100 |
| | East Brunswick Animal Hospital | 44 Arthur Street East Brunswick, NJ 08816 | (732)254-1212 |
| | EquiHeart Veterinary Services | 1 Eisenhower Lane Califon, NJ 07830 | (732)616-6188 |
| | Hopewell Veterinary Group | 230 Hopewell Pennington Rd. Hopewell, NJ 08822 | (609)466-0131 |
| | Kirkwood Animal Hospital | 1501 Kirkwood Hwy Newark NJ 19711 | 302-737-1098 |
| | Rancocas Veterinary Associates | 84 Mill Street, Mt. Holly, NJ 08060 | (609)261-7280 |
| | Robert Stephens | 745 Gershal Ave Elmer, NJ 08318 | (856)692-6300 |
| | Shrewsbury Animal Hospital | 1008 Shrewsbury Avenue Tinton Falls, NJ 07724 | (732)383-6181 |
| | Tindall Mobile Veterinary Service | 39 Upper Creek Rd Stockton, NJ 08559 | (908)996-6600 |
| | Ventnor Veterinary Office | 5100 Ventnor Avenue Ventnor City, NJ 08406 | (609)823-8566 |
| | Veterinary Care Center | 2663 Nottingham Way, Hamilton Township, NJ 08619 | (609)890-6266 |
| | #NAME? | 35 Jay Court Kendall Park, NJ 08824 | (609)497-0826 |
| | Backroads Veterinary Care Mbl | Santa Fe NM 87508 | (505)629-7701 |
| | Deming Animal Clinic | 2117 Columbus Rd Deming, NM 88030 | (575)694-7359 |
| | Double J Animal Hospital, LLC | 2804 S. Eunice Highway Hobbs, NM 88240 | (575)738-0143 |
| | Large and Small Animal Clinic | 320 Ranchitos Rd NW Albuquerque, NM 87114 | (505)897-3787 |
| | Large Animal Mobile Veterinary Services | Las Cruces, NM 88011 | (575)551-1590 |
| | Petroglyph Animal Hospital | 6633 Caminito Coors NW Albuquerque NM 87120 | (505)898-8874 |
| | Schumacher Vet Clinic | 701 S Valley Dr Las Cruces NM 88005 | 575-524-2894 |
| | Smith Animal Clinic | 1209 S Union Ave Roswell NM 88203 | 575-623-4100 |
| | Town & Country Veterinary Clinic | 2035 Memory Lane, Silver City, NM 88061 | (575)538-3700 |
| | VCA West Mesa Animal Clinic | 2611 Coors Blvd. NW, Suite B Albuquerque, NM 87120 | (505)836-6048 |
| | A Plus Animal Hospital | 7450 Longley Ln Reno NV | 775-852-4300 |
| | Animal Kindness Veterinary Hospital | 4910 E Bonanza Rd Las Vegas, NV 89110 | (702)302-4656 |
| | Carson Tahoe Veterinary Hospital | 3389 S. Carson Street Carson City, NV 89701 | (775)883-8238 |
| | Cenntenial Hills Animal Hospital | 7551 N Cimarron Rd Las Vegas NV 89131 | 702-655-0241 |
| | Desert Pines Equine | 5000 North Jones Blvd Las Vegas NV 89130 | 702-645-2247 |
| | Island Pet Hospital | 7025 West Ann Road Las Vegas, NV 89130 | (702)645-7387 |
| | Kreature Komforts | 2205 Glendale Ave #117 Sparks Nv 89431 | 775-356-5524 |
| | Lone Mountain Animal Hospital | 6688 West Cheyenne Ave Las Vegas NV 89108 | 702-645-3116 |
| | North Hills Veterinary Clinic | 1440 North Hills Blvd Reno, Nevada 89506 | (775) 972-5566 |
| | Nye County Veterinary Hospital | 700 S Frontage Rd Pahrump, NV 89048 | (775)727-5088 |
| | Park Animal Hospital | 8400 South Eastern Avenue, Las Vegas, NV, United States | AMPA Veterinary Outreach Member 702-361-5850 |
| | Petsmart Veterinary Hospital | 2140 N. Rainbow Las Vegas, NV 89108 | (702)647-6880 |
| | Sunset Eastern Animal Hospital | 6521 S. Eastern Las Vegas, NV 89119 | (702)361-2566 |
| | The Ark Animal Clinic | 1651 N Rancho Las Vegas NV 89106 | 702-648-8583 |
| | Burnt Hills Vet Clinic | 145 Goode Street Burnt Hills, NY 12027 | (518)399-5213 |
| | All Animal Veterinary Services | 179 Nine Partners Lane Millbrook, NY 12545 | (845)249-8557 |
| | All Creatures Animal Hospital | 6429 Transit Rd East Amherst, NY 14051 | (716)636-3600 |
| | All Pets Veterinary Home Care | 3208 E Main St, Endicott, NY 13760 | (607)231-1464 |
| | Animal Ark Veterinary Service | 2996 Belgium Road, Rte. 31 Baldwinsville, NY 13021 | 315-635-2525 |
| | Arkwright Veterinary Services | 2879 Ball Rd. Cassadaga, NY 14718 | (716)679-7900 |
| | Batavia Vet Clinic | 3699 W. Main Street Rd. Batavia, NY 14020 | (585)343-4046 |
| | Bayview Animal Hospital PC | 96 Moffitt Boulevard Bay Shore, NY 11706 | (631)224-1900 |
| | Beaver Meadows Clinic | 8535 Old Poland Rd. Barneveld, NY 13304 | (315)896-2658 |
| | Black Creek Animal Clinic | 2899 County Rte. 57 Fulton, NY 13069 | (315)592-4400 |
| | Candor Animal Care | 2 Mill St. Candor, NY 13743 | (607)659-4220 |
| | Central Veterinary Associates | W. Merrick Road Valley Stream, New York 11580 | (718)525-5454 |
| | Chatham Animal Hospital | 4042 New York 203, North Chatham, NY 12132 | (518)766-4600 |
| | Clear Lakes Animal Wellness | 5500-15 Bartell Rd. Brewerton, NY 13029-8974 | (315)676-2860 |
| | CNY Vet Services at Animal Kingdom | 5252 State Route 31 Clay, NY 13041-9504 | (315)699-0375 |
| | Cobleskill Veterinary Clinic | 5027 State Route 145 Cobleskill, NY 12043 | (518)234-4311 |
| | Cornell University/Farm Animal Hospital | Ithaca NY | 607-253-3100 |
| | Country Comfort Animal Hospital | 3815 Route 44 Millbrook, NY 12545 | (845)677-1600 |
| | Countryside Vet Clinic | 7364 Utica Blvd Lowville, NY 13367 | (315)376-6563 |
| | Countryside Vet Clinic | 21995 Cole Road Carthage, NY 13619 | (315)493-7387 |
| | Countryside Veterinary Hospital | 270 Queensbury Ave Queensbury NY 12804 | (518)793-7083 |
| | Gardiner Animal Hospital | 177 Main Street Gardiner, NY 12525 | (845)255-1549 |
| | Granville Veterinary Service | 1987 County Route 23 Granville, NY 12832 | (518)642-1676 |
| | Highland Animal Hospital, | 12 Gertrude Drive Central Square,NY 13036 | (315)668-7387 |
| | Hurley Veterinary Hospital | 509 Hurley Ave. Hurley, NY 12443 | (845)331-7100 |
| | Lakeside Veterinary Clinic | 18 Lake Simond Rd Tupper Lake, NY 12986 | (518)359-7924 |
| | Lancaster Small Animal Hospital | 5156 Genesee Street Bowmansville, NY 14026 | (716)681-3033 |
| | Lewis Boulevard Animal Hospital | 2920 Niagara Falls Blvd Buffalo, NY 14228 | (716)694-5244 |
| | Livonia Vet Clinic | 6760 Richmond Mills Road Livonia, NY 14487 | (585)346-2140 |
| | Mattydale Animal Hospital | 2703 Brewerton Rd. North Syracuse, NY 13212 | (315)455-9056 |
| | Montesano & Tallarico | PO Box 1396 Smithtown, NY 11787 | 631-366-0003 |
| | North Country Veterinarians | 4592 US Route 11 Pulaski, NY 13142-2105 | (315)298-5141 |
| | Northside Animal Hospital | 773 Post Avenue Staten Island, NY 10310 | (718)981-4445 |
| | Pawling Animal Clinic | 550 Route 22 Pawling, NY 12564 | (845)878-0299 |
| | Perry Vet Clinics | 3180 Route 246 Perry, NY 14530 | (585)237-5550 |
| | South Salem Animal Hospital | 1310 Route 35 South Salem, NY 10590 | (914)763-3123 |
| | Transit Valley Animal Hospital | 7591 Transit Rd. East Amherst, NY 14051 | (716)688-1737 |
| | Veterinary Center for Birds & Exotics | 709 Bedford Rd, Bedford Hills, NY 10507 | (914)864-1414 |
| | Watertown Animal Hospital | 1445 Washington Street Watertown, NY 13601 | (315)788-1711 |
| | Willow Wind Farm Equine | 2971 Pompey Center Rd. Manlius NY 13104-9626 | (315)682-6434 |
| | Yorkshire Vet Clinic | 12129 Route 16 Chaffee, NY 14030 | (716)492-5550 |
| | Briarhill Animal Wellness Center | 5315 Washington Rd, Albany, OH 45710 | (740)698-7270 |
| | Wooster Animal Clinic | 3050 Lincoln Way E, Wooster, OH 44691 | (330)264-3326 |
| | Ohio State University Veterinary Medical Center | 601 Vernon L. Tharp Street Columbus, OH 43210 | (614)292-6661 |
| | A1 Veterinary Care Inc. | 46809 CR 495 Coshocton, OH 43812 | (740)622-4443 |
| | All About Pet Care | 3410 Tytus Ave Middletown, OH 45042 | (513)424-1626 |
| | All Creatures Animal Hospital | 5194 Beechmont Ave Cincinnati, OH 45230 | (513)231-2345 |
| | All Creatures Animal Hospital | 8451 Beechmont Ave. Cincinnati, OH 45255 | (513)474-5700 |
| | All Creatures Animal Hospital | 1894 Ohio Pike Amelia, OH 45102 | (513)797-7387 |
| | All Creatures Rittman Veterinary Clinic | 12545 Sheets Rd Rittman, OH 44270 | (330)925-4910 |
| | All God's Creatures Hospital and mobile service | 1021 N. Memorial Drive, Suite 3 Lancaster, OH 43130 | (740)654-3111 |
| | Animal and Avian Medical Center | 4171 Center Road, Brunswick, OH 44212 | (330)225-0095 |
| | Barberton Veterinary Clinic | 4873 Richland Ave, Barberton, OH 44203 | (330)825-2434 |
| | Cadiz Animal Hospital | 43255 Airport Road Cadiz, Ohio 43907 | (740)942-3267 |
| | Chagrin Falls Veterinary Center | 530 E Washington St. Chagrin Falls, OH 44022 | (440)247-5901 |
| | Clermont Animal Hospital | 1404 Old State Route 74 Batavia, OH 45103 | (513)732-1730 |
| | Countryside Vet | 4680 Mahoning Avenue Champion, OH 44483 | (330)847-7337 |
| | Countryside Vet | 8004 State Route 5 Kinsman, OH 44428 | (330)876-5555 |
| | Cross County Veterinary Services | 376 Curtis St, Delaware, OH 43015 | (740)363-2515 |
| | Delaware Humane Society | Delaware, OH | (302) 571-0111 |
| | Douds Veterinary Hospital Inc | 12115 Leavitt Rd, Oberlin, OH 44074 | (440)774-4542 |
| | East Holmes Veterinary Clinic | 5503 Co Rd 120, Berlin, OH 44610 | (330)893-2057 |
| | East Suburban Animal Clinic | 5032 Woodville Rd. Northwood, OH 43619 | (419)691-7201 |
| | Elemental Veterinary Center + Pet Spa | 1250 N. High St. Columbus, OH 43201 | (614)824-4036 |
| | Feeder Creek Veterinary Services | 12575 Millersport Rd, Millersport, OH 43046 | (740)467-2949 |
| | Green Camp Veterinary Clinic, LLC | 4680 Mahoning Avenue Champion, OH 44483 | (330)847-7337 |
| | Green Camp Veterinary Clinic, LLC | 221 Main St PO BOX 242 Green Camp, OH 43322 | (740)528-3020 |
| | Green Meadow Veterinary Hospital | 3000 OH-26, Marietta, OH 45750 | (740) 373-9696 |
| | Greystone Veterinary Hospital | 7819 Broadview Rd. #4 Seven Hills, OH 44131 | (216)525-1077 |
| | Heights Animal Hospital | 13230 Cedar Road Cleveland Heights, OH 44118 | (216)371-1400 |
| | Koch-Stigge Veterinary Clinic | 28204 SW Outer Rd Harrisonville, MO 64701 | (816) 884-5749 |
| | Lincoln Way Animal Hospital | 1880 E Wyandot Ave, Upper Sandusky, OH 43351 | (567) 257-3500 |
| | Lisbon Veterinary Clinic | 8100 Race Road Lisbon OH 44432 | (330)424-3512 |
| | Little Miami Vet Service | 680 W. Mason Morrow Rd. South Lebanon, OH 45065 | (513)494-9009 |
| | Maria Stein Animal Clinic Inc. | 8155 Ohio 119 Maria Stein, OH 45860 | (419)925-4212 |
| | MetroPet Veterinary Clinic | 298 North Rocky River Drive Berea, OH 44017 | (440)826-1520 |
| | Metropolitan Vet Hospital | 1053 S. Cleveland-Massillon Rd. Copley Ohio 44321 | (330)666-2976 |
| | Northgate Animal Hospital | 8668 Troy Pike, Dayton, OH 45424 | (937)236-8070 |
| | Northside Veterinary Clinic | 10 Critter Court Rd, Springfield, OH 45502 | (937) 399-1121 |
| | Northwest Veterinary Hospital | 104 Main Delta, OH 43515 | (419)822-5030 |
| | Oak Tree Veterinary Hospital | 1794 South Taylor Rd. Cleveland Hts, OH 44118 | (216)321-6040 |
| | Orchard Vet Clinic | 45 Orchard Rd Wilmington OH 45177 | 937-383-0008 |
| | Portage Animal Clinic | 4148 Ohio 43 Kent, OH 44240 | (330)673-7387 |
| | Red Star Veterinary Clinic | 5447 Lincoln St E East Canton, OH 44730 | (330)871-8013 |
| | Refugee Canyon Veterinary Services | 116 N 9th, Hebron, OH 43025 | (740) 929-1493 |
| | Richfield Animal Care | 4061 Broadview Road Richfield, OH 44286 | (330)659-6606 |
| | Rolling Hills Vet Service | 3097 S Bantam Rd Bethel, OH 45106 | (513)734-9400 |
| | Sharon Center Veterinary Hospital | 2131 Sharon Copley Rd. Medina, OH 44256 | (330)239-1115 |
| | Stonewall Veterinary Hospital | 11900 Mills Rd, Garrettsville, OH 44231 | (330)527-4400 |
| | Stow Kent Animal Hospital | 4559 Kent Road Kent, OH 44240 | (330)673-0049 |
| | Sunny Ridge Veterinary Services | 9282 Sprucevale Rd Rogers, OH | (330) 227-9295 |
| | The Animal Clinic Wadsworth | 919 West Street Wadsworth Ohio 44281 | (330)334-8387 |
| | Tipp City Veterinary Hospital | 4900 S County RD 25A Tipp City, Ohio | 937-667-8489 |
| | Tri-County Veterinary Mobile Service | 301 N. Kuther Rd. Sidney, OH 45365 | (937)492-6536 |
| | Tri-County Veterinary Service | 16200 Co Rd 25A Anna, OH 45302 | (937)693-2131 |
| | Twin Valley Animal Hospital | 6676 US Route 35 East West Alexandria, OH 45381 | (937)839-4169 |
| | Wellington Vet Clinic | 45015 State Route 18 Wellington, OH 44090 | (440)647-4100 |
| | West Geauga Veterinary Hospital | 12498 Chillicothe Road Chesterland, OH 44026 | (440)729-9584 |
| | Wolf Creek Animal Care | 6265 OH-676, Stockport, OH 43787 | (740) 749-3132 |
| | All Animal Vet Hospital | 371 South Highway 3 Atoka, OK 74525 | (580)889-6183 |
| | All Hours Animal Hospital and Emergency Center | 609 NW 8th Street Moore, OK 73160 | (405)237-1055 |
| | All Pets | 4603 West Main Street Norman, OK 73072-4454 | (405) 360-2607 |
| | All Pets Medical Center | 1300 E. Tamarack Rd. Altus, OK 73521 | (580)482-7387 |
| | Animal Medical And Surgical Hospital | 7140 S 69th E Ave Tulsa, OK | (918)492-2674 |
| | Animal Medical Center | 1711 North Lynn Riggs Blvd. Claremore, OK 74017 | (918)341-4635 |
| | Benchmark Animal Hospital | 1701 W 116th St, Perkins, OK 74059 | (405)547-8381 |
| | Canadian Valley Animal Clinic | 320 SE 27th St,. El Reno, OK 73036. | (405)262-2858 |
| | Chisholm Trail Animal Hospital | 1905 W Fuller Duncan, OK 73533 | (580)252-3100 |
| | Cimarron Animal Clinic | 6012 N Washington Street Stillwater, OK 74075 | (405)372-3200 |
| | Council Veterinary Hospital | 7930 NW 23rd St Bethany, OK 73008 | (405)787-1001 |
| | Countryside Veterinary Services | 920268 S. 3450 Rd. Chandler, OK 74834 | (405)258-0875 |
| | Crescent Animal Hospital | 14378 West crescent Dover Road Crescent, OK 73028 | (405)969-2639 |
| | Cross Timbers Large Animal Mobile Veterinary Services | Logan County, Oklahoma, Arcadia, Oklahoma 73007 | (405)777-3081 |
| | Dewey Veterinary Clinic | 13372 Us Highway 75 Dewey, OK 74029 | 918-534-3150 |
| | Durant Animal Hospital | 86 W Mulberry St Durrant OK | (580)924-1640 |
| | Edmonds Veterinary Services | Morris, OK, United States | AMPA Veterinary Member (918) 733-4525 |
| | Horizon Animal Hospital | 15606 South Memorial Dr Bixby, OK 74008 | (918) 493-5757 |
| | Neel Veterinary Hospital | 2700 N MacArthur Blvd Oklahoma City, OK 73127 | (405)947-8387 |
| | Northside Veterinary Hospital | 121 W 45th, Shawnee, OK 74804 | (405) 273-3700 |
| | Ridgeview Veterinary Hospital | 26923 County Road 420 Alva, OK 73717 | (580)327-0221 |
| | Shawnee Animal Hospital | 1509 North Kickapoo Ave, Shawnee OK 74804 | (405)275-0990 |
| | Skiatook Animal Clinic | 15100 N Cincinnati Ave Skiatook, OK 74070 | (918)396-1338 |
| | Skiatook Animal Hospital | 1355 West Rogers Blvd Suite 6 Skiatook, OK | (981)396-4800 |
| | Stockyards Veterinary Clinic | 913 N 161st Street E Ave Tulsa, OK 74116 | (918)234-7568 |
| | Pioneer Veterinary Clinic | 65073 U.S. Hwy 60 Ponca City, OK 74604 | (580)762-7887 |
| | Veterinary Corner | 2930 Hwy. 105 Guthrie, OK 73044 | (405)282-4821 |
| | VetMed Teaching Hospital | 2065 W. Farm Road Stillwater, Oklahoma 74078 | (405)744-7000 |
| | Voss Veterinary Clinic | Checotah, OK | 918-473-2761 |
| | Bailey Veterinary Clinic | 248 NW Garden Valley Blvd. Roseburg, OR 97470 | (541)673-4403 |
| | Cater Animal Clinic | 665 East Vilas Road Central Point, OR 97502 | (541)779-0951 |
| | Christenson mobile Veterinary Services | P.O. Box 245 Boring, OR 97009 | (503)320-9923 |
| | Eagle Fern Equine Hospital | 28255 SE Eagle Creek Rd Estacada, OR 97023 | (503) 630-4558 |
| | Hillsboro Veterinary Clinic | 142 SW Baseline St. Hillsboro, OR. 97123 | (503)505-7577 |
| | Newberg Veterinary Hospital PC | 3716 Portland Road Newberg, OR. 97132-6988 | (503)538-8303 |
| | O.S.U College of Veterinary Medicine | 700 SW 30th Street Corvallis, OR 97331 | (541)737-2858 |
| | Oregon Trail Veterinary Clinic | 80489 Hwy. 395 N Hermiston, OR 97838 | (541)567-1138 |
| | Redmond Vet Clinic | 1785 N. Hwy 97 Redmond, OR 97756 | (541)548-1048 |
| | Scio Animal Hospital | 38731 Main, Scio, OR 97374 | (503)394-2035 |
| | Shasta View Animal Clinic | 1652 Ditchrider Rd. Klamath Falls, Oregon 97603 | (541)883-6337 |
| | South Willamette Vet Clinic | 255 Emerald Parkway Creswell, Oregon 97426 | (541)895-5665 |
| | Valley Veterinary Clinic | 26072 Highway 30 Rainier, Oregon 97048 | (503)556-3084 |
| | Woodburn Veterinary Clinic | 225 S. Pacific Hwy Woodburn, OR. 97071 | (503)982-2421 |
| | Forrest Hills Veterinary Clinic | 132 Maxine Drive Sidman, Pa 15955 | (814)487-6231 |
| | H & H Veterinary Care | 354 W 6th Ave Eugene, OR 97401 | (541) 343-3419 |
| | Rainbow Hospital Mobile Vet | 129 State Route 168 Darlington, PA 16115 | (724)843-5443 |
| | 4 Star Vets | 180 Hershey Rd. Elizabethtown, PA 17022 | (717)367-1206 |
| | Ani-care Animal Hospital and Veterinary Clinic | 2740 S Queen Street Dallastown, PA 17313-9541 | 866-930-1959 |
| | Blue Mountain Animal Clinic | Route 895 & 309 New Ringgold, PA 17960 | (570)386-5902 |
| | Bree's Animal Hospital | 7436 Frankford Ave. Philadelphia, PA 19136 | (215)338-3219 |
| | Brush Run Veterinary Clinic | 450 Valley Brook Rd McMurray, PA 15317 | (724)941-4366 |
| | Butler Vet Hospital | 1761 N Main St Butler PA | 724-283-2345 |
| | Camboro Veterinary Hospital | 5989 Route 6N Edinboro, PA 16412 | (814)273-1081 |
| | Carbondale Veterinary Hospital | 198 Canaan St Carbondale, PA 18407-1710 | (570)282-0744 |
| | Compassion Animal Hospital | 1665 Pennsylvania 194 East Berlin PA 17316 | 717-459-9100 |
| | Donovan Veterinary Clinic | Ligonier, PA | 724-238-9645 |
| | Five Points Veterinary Service | 3528 Rt 981 Saltsburg, PA 15681 | (724)702-0160 |
| | Girard Veterinary Clinic | 2806 W. Girard Ave. Philadelphia, PA 19130 | (215)232-0831 |
| | Greenville Veterinary Clinic | 409 E Jamestown Rd, Greenville, PA 16125 | (724) 588-5260 |
| | Kish Veterinary Services | 66 Glenlew Drive Lewistown, PA 17044 | (717)242-2415 |
| | Muddy Creek Veterinary Service | 413 Ridge Road Fawn Grove PA 17321 | (717)862-1115 |
| | Patton Animal Hospital | 425 East Broadway Red Lion PA | (717)246-3611 |
| | Quakertown Vet Clinic | 2250 Old Bethlehem Pike Quakertown PA 18951 | 215-536-2726 |
| | Silver Springs Animal Clinic | 5 Sample Bridge Rd Mechanicsburg, PA 17050 | 717-766-5980 |
| | St Francis Animal Hospital | 12720 Route 30 North Huntingdon, PA 15642 | (724)863-7501 |
| | Sunbury Animal Hospital | 3920 State Route 890 Sunbury, PA 17801 | (570)286-5131 |
| | University Of Pennsylvania Teaching Hospital | 382 West Street Road Kennett Square, PA 19348 | (610)444-5800 |
| | VCA Bridgeport Animal Hospital | 1252 Ranck Mill Road Lancaster, PA 17602 | (717)393-9074 |
| | VCA Met Vet West Animal Hospital | 5309 Campbells Run Road Pittsburgh, PA 15205 | (412)788-4166 |
| | VCA Smoketown Veterinary Hospital | 2497 Old Philadelphia Pike Lancaster, PA 17602 | (717)394-5542 |
| | West Chester Veterinary Medical Center | 1141 West Chester Pike West Chester, PA 19382 | (610)696-8712 |
| | WILDE VETERINARY CENTER | 29 West South Park Row, Waterford, PA 16441 | (814) 796-4868 |
| | Willow Creek Animal Hospital | 5707 Leesport Ave Reading, PA 19605 | (610)378-0192 |
| | Coventry Animal Hospital | 2091 Nooseneck Hill Road Coventry, RI 02816 | (401)385-3882 |
| | Mt. Hope Animal Hospital | 645 Bristol Ferry Road Portsmouth, Rhode Island 02871 | (401)683-3743 |
| | Ocean State Veterinary Specialists *ER vet only | 1480 South County Trail East Greenwich, RI 02818 | (401)886-6787 |
| | Wood River Animal Hospital | 28 Kingstown Road Wyoming, RI 02898 | (401)539-1199 |
| | Twin Oaks Animal Hospital | 62 Mayer St, Silverstreet, SC 29145 | (803) 276-5563 |
| | All Creatures Veterinary Clinic | 224 Calhoun Street Charleston, SC 29401 | (843)579-0030 |
| | Birds and Exotics Animal Care | 814 Johnnie Dodds Blvd Mt. Pleasant, SC 29464 | (843)216-8387 |
| | Bishopville Animal Clinic | 428 N Main Street Bishopville, SC 29010 | (803)484-6994 |
| | Camden Veterinary Hospital | 2301 Lyttleton St, Camden, SC 29020 | (803)432-3061 |
| | Carter Veterinary Services | 420 Oakwood Dr Hardeeville, SC 29927 | (843)694-1450 |
| | Cleveland Park Animal Hospital | 6704 State Park Rd Travelers Rest SC 29690 | (864)610-9411 |
| | Greenville SC Animal Hospital | 126 Woodland Way Greenville, SC 29601 | (864)242–3300 |
| | Health pointe Vet Clinic | 740 Shoals Rd Duncan, SC 29334 | (864)486-8177 |
| | Langston Veterinary Clinic | 103 N A St Easley, SC 29640 | (864)859-2443 |
| | Lowcountry Large Animal Veterinary Services | 1394 Driggers Lane Ridgeland, SC 29936 | (843)726-6300 |
| | Myrtle Beach Animal Hospital | 1700 Mr Joe White Ave Myrtle Beach, SC 29577 | (843)839-7387 |
| | Outlaw Veterinary Clinic | 4384 Pelzer Hwy, Easley, SC 29642 | (864)859-5033 |
| | Palmetto Veterinary Medicine & Surgery | 6000 McConnells Hwy E, Mc Connells, SC 29726 | (803)628-1665 |
| | Seneca Animal Hospital | 104 Return Church Rd Seneca, SC 29678 | (864)882-8747 |
| | Sunset Animal Clinic | 127 Professional Drive West Columbia, SC 29169 | (803)791-5575 |
| | West Spartan Animal Hospital | 13220 E Wade Hampton Blvd Greer SC 29651 | 864-877-3489 |
| | All City Pet Care | 2809 S Spring Ave Sioux Falls SD | 605-339-9261 |
| | All Creatures Veterinary Hospital | 1825 Clear View Lane Rapid City, SD | (605)342-0052 |
| | Animal Health Center | 912 E 7th Ave Redfield, SD 57469 | (605)472-2423 |
| | Big River Veterinarian Service | 118 N Garfield Ave Pierre, SD 57501 | (605)224-6745 |
| | Central Dakota Animal Clinic | 27579 366th Avenue Platte, SD 57369 | (605)337-2659 |
| | Cook Veterinary Clinic | 1727 E Anamosa St Suite 100 Rapid City, SD 57703 | (605)399-2665 |
| | COOPER ANIMAL CLINIC | 39224 133rd St Aberdeen, SD 57401 | (605)225-3500 |
| | Dr. Hubert Veterinarian Service | 2410 N Main Street Mitchell, SD 57301 | (605)995-1412 |
| | Tri State Veterinary Clinic | 18651 Livestock Road Belle Fourche, SD 57717 | (605)892-2844 |
| | All Animals Vet Hospital | 2161 Tennessee 48 Dickson, TN 37055 | (615) 446-7991 |
| | All Creatures Pet Hospital | 2050 W Poplar Ave #106 Collierville TN 38017 | 901-853-4220 |
| | Animal Aid of TN | 213 Tellico Ave Thens, TN 37303 | (423)453-5149 |
| | Animal Clinic of Pulaski | 617 W Poplar St Pulaski TN 38478 | 931-363-4581 |
| | Animal Emergency & Specialty Center | 10213 Kingston Pike, Knoxville, TN 37922 | (865)693-4440 |
| | Animal House Vet Clinic | 223 Largo Dr Nashville, TN | (615) 834-6441 |
| | Animal House Vet Clinic | 410 Dover Road Clarksville, TN 370429 | (931)645-7757 |
| | Blue Springs Vet | 5574 Hillsboro Hwy, Manchester, TN, United States | (931) 596-3565 |
| | Butler Animal Clinic | 7545 Oak Ridge Hwy, Knoxville, TN 37931 | (865)531-7311 |
| | Collierville Animal Clinic | 474 Hwy 72 W Collierville, TN 38017 | 901-853-8519 |
| | Crestview Animal Hospital | 1543 Industrial Rd Greeneville, TN 37745 | (423)639-1421 |
| | Farrar Animal Clinic | 2544 Huntsville Hwy. Fayetteville, TN 37334 | (931)433-8368 |
| | Fayetteville Animal Clinic | 1920 Wilson Pkwy, Fayetteville, TN 37334 | (931)433-1202 |
| | Gateway Animal Care Group | 410 Dover Rd Clarksville, TN 370429 | (931)645-7757 |
| | Henderson Volunteer Animal Clinic | 160 New Shackle Island Rd Hendersonville, TN 37075 | (615) 824-8411 |
| | Indian Ridge Animal Hospital | 1100 Indian Trail Dr, Kingsport, TN 37660 | (423) 378-4753 |
| | Karns Animal Clinic | 7752 Oak Ridge Hwy Knoxville Tn 37931 | 865-690-1282 |
| | Kinslow Veterinary Clinic | 109 Southside Park Dr Lebanon, TN 37090 | (615) 444-9424 |
| | Maury County Vet Hospital | 1118 W. 7th Street Columbia, TN 38401 | (913)388-4750 |
| | Memphis Veterinary Specialists | 555 Trinity Creek Cove Cordova TN 38018 | (901)624-9002 |
| | Mid-South Spay & Neuter Services | 854 Goodman St, Memphis, TN 38111 | (901) 324-3202 |
| | Mineral Wells Animal Clinic | 1116 Volunteer Dr Paris, TN 38242 | 731-642-5699 |
| | Mountain Empire large animal vet | 4340 N Roan St Johnson City TN | 423-282-6194 |
| | Nashville Vet Specialists | 2971 Sidco Dr Nashville, TN | (615) 386-0107 |
| | Noah's Friends Animal Hospital | 4648 E Jefferson Pike, Lascassas, TN, United States | (615) 890-8140 |
| | Robinson Animal Hospital | 203 W. Watauga Ave Johnson City, TN 37604 | 423-218-1305 |
| | Rock N Country Vet Services | 6545 Arno Road College Grove, TN 37046 | (615)368-7873 |
| | The Animal Clinic | 828 Rocky Mt Rd Athens, TN 37303 | (423) 745-7436 |
| | Trenton Animal Clinic | 2011 US Highway 45 Bypass S Trenton, Tennessee 38382 | (731)855-9081 |
| | University of Tennessee | 2407 River Drive Knoxville, TN 37996-4550 | 865-974-8387 |
| | VCA Ragland & Riley Animal Hospital | 3207 Cookeville Hwy, Livingston, TN, United States | (931) 498-3153 |
| | Veterinary Services | 123 S. Horton Pkwy Chapel Hill, TN | 931-364-7799 |
| | Volunteer Veterinary Clinic | 160 New Shackle Island Road Hendersonville, TN 37075 | (615)824-8411 |
| | Williams Animal Hospital | 198 Chaffin Pl Murfreesboro, TN 37129 | (615)895-0650 |
| | Abshirer-Meuth Animal Hospital | 8536 N. Hwy 146 Baytown, TX 77523 | (281)383-3254 |
| | Affordable Pet Care | 5443 Grissom Road San Antonio, Texas 78238 | (210)684-2273 |
| | Alamosa Animal Hospital | 3926 E Hwy 44 Alice TX | 361-688-0028 |
| | All Pets Animal Hospital | 24221 Kingsland Blvd Katy, TX 77494 | (281)392-7387 |
| | Alldredge Veterinary Hospital | 16368 Hwy 105 East Cleveland, TX 77327 | (281)592-8387 |
| | Allen Animal Clinic | 1013 E. Main Street Allen, TX 75002 | (972)727-5151 |
| | Alvarado Vet Clinic | 6800 East Highway 67 Alvarado Tx 76009 | 817-783-2257 |
| | Animal Kingdom Pet Hospital | 551 A League City Parkway League City, TX 77573 | (281)554-7200 |
| | Animal Protection League | 705 Gilmer Rd Longview, TX 75604 | (903)753-7387 |
| | Ark Veterinary Hospital | 5613 S US Highway 377 Stephenville, TX 76401 | (254)968-7916 |
| | Atlanta Animal Hospital | 1830 S. William St. Atlanta, TX. 75551 | (903)796-7417 |
| | Bar N Veterinary Clinic, PC | 4706 S. State Hwy 36 Gatesville, TX 76528 | (254)865-8466 |
| | Bay City Veterinary Clinic and Equine Hospital | 4501 7th Street Bay City, TX 77414 | (979)245-6364 |
| | Bedford Meadows Animal Clinic | 2209 Hardwood Road Bedford, TX 76021 | (817)571-4088 |
| | Belton Veterinary Clinic | 707 W Loop 121 Belton, TX 76513 | (254)939-1884 |
| | Briarcrest Veterinary Clinic | 1492 Wilcrest Houston, TX 77042 | (713)789-8320 |
| | Bridgeport Animal Hospital | 709 US 380 Bridgeport TX 76426 | 940-683-2257 |
| | Casey Risinger Vet | 551 FM 148 Terrell, TX 75160 | 972-563-3305 |
| | Conroe Vet Clinic | 201 Porter Rd Conroe, TX | 936-756-5233 |
| | Cottonwood Creek Veterinary Hospital | 2200 S Loop 340 Waco, TX 76706 | (254)757-0460 |
| | Countryside Veterinary Clinic | 901 N Interstate 35 Service Rd. Red Oak, Texas 75154 | (972)223-5641 |
| | Deason Animal Hospital | 1712 D Street Floresville TX 78114 | (830)393-4567 |
| | Decatur Veterinary and Animal Hospital | 2101 S College Ave Decatur, TX 76234 | 940-627-2158 |
| | EasTex Veterinary Clinic | 7417 N US Hwy 59 Nacogdoches, TX 75964 | (936)560-1530 |
| | Eastwood Animal Clinic | 9509 Montana Ave El Paso, TX 79925 | (915)593-0713 |
| | Family Pet Clinic of North Richland Hills | 6724 Mid Cities Blvd. North Richland Hills, TX 76180 | (682)593-2889 |
| | Family Pet Hospital of Stone Oak | 19355 Stone Oak Pkwy San Antonio, TX 78258 | (210)495-2722 |
| | Fayette County Vet | 227 Svobada Ln LA Grange, Tx | 979-968-3535 |
| | Feather and Fur Animal Hospital | 9125 Manchaca Rd Austin, TX 78748 | (512)291-4000 |
| | Granbury Animal Clinic | 1319 Lipan Hwy Granbury, TX 76048 | (817)573-5553 |
| | Greenville Animal Hospital | 2809 East I-30 Greenville TX 75402 | (903)455-8588 |
| | Guadalupe Valley Veterinary Clinic | 2004 Church St Gonzales, TX 78629 | (830)672-8676 |
| | Hawkins Pet & Exotic Animal | 1129 Beaulah St, Hawkins, TX 75765 | (903)769-2331 |
| | Hempstead Vet Clinic | 445 Austin Street Hempstead, TX 77445 | (979)826-8293 |
| | Herbst Veterinary Hospital | 1376 South Main Street Boeme, TX 78006 | (830)249-3543 |
| | Highway 29 Veterinary Hospital | 3500 E State Hwy 29 Bertram, TX 78605 | (512)355-3002 |
| | Isom Veterinary Hospital | 1603 Central Texas Expressway Lampasas, TX 76550 | (512)556-9700 |
| | Kingsville Veterinary Svc | 1400 E. King Ave Kingsville, TX 78363 | (361)516-0774 |
| | Lake Palestine Animal Hospital | 11750 State Highway 155 Frankston, TX 75763 | (903)876-4848 |
| | Lamp-Bellville Veterinary Clinic | 957 E. Hill St. Belville, TX 77418 | (979)865-2192 |
| | Live Oak Animal Hospital | 5214 98th St. Ste. 100 Lubbock, TX 79424 | (806)794-9000 |
| | Millsap Vet Clinic | 1000 White Bull Ln Millsap TX 76066 | 940-682-4970 |
| | Noah's Ark Pet Hospital | 7306 SW 34th Ave St 6 Armarillo TX | 806-457-9922 |
| | North Austin Animal Hospital | 5608 Burnet Rd Austin Tx | 512-459-7676 |
| | North Tollway Pet Hospital | 4727 Frankford Rd. Suite 365 Dallas, Tx. 75287 | (972)733-3340 |
| | Paleface Vet Clinic | 21205 Texas 71 Spicewood TX 78669 | 512-264-1700 |
| | Palestine Veterinary Clinic | 6014 Loop 256 Palestine, TX 75801 | (903)729-0141 |
| | Palo Duro Animal Hospital | 1901 4th Ave Canyon, TX | 806-655-2106 |
| | Pet Check-Up | 11011 Tower Oaks Blvd, Houston, TX 77065 | (281) 955-8560 |
| | Pioneer Vet Clinic | 619 E Broadway St Winters TX 70567 | 325-754-5487 |
| | Pittsburg Veterinary Clinic | 203 N Greer Blvd Pittsburg, TX 75686 | (903)856-6518 |
| | Research Boulevard Pet And Bird Hospital | 11679 Research Blvd Austin, TX 78759 | (512)258-2577 |
| | Rogers Animal Hospital | 1246 N Business 45 Corsicana, TX 75110 | (903)872-6655 |
| | Simmons and Harlan Veterinary Clinic | 202 Valley View At Loop 11 Wichita Falls, TX 76305 | (940)723-4054 |
| | South Meadow Animal Clinic | 3020 Sycamore School Road, Fort Worth, TX, United States | AMPA Veterinary Outreach Member 817-370-5666 |
| | Southlake Animal Hospital | 200 W. State Highway 114 Southlake, TX 76092 | (817)481-2014 |
| | Spencer Veterinary Services | 2559 Texas 154 West Gilmer, TX 75644 | (903)725-6214 |
| | Sunset Canyon Veterinary Clinic | 3710 E Hwy 290 Dripping Springs, Texas 78620 | (512)894-0266 |
| | Tall City Veterinary Clinic | 4606 West Wall Street Midland TX 79703 | (432)694-6658 |
| | Texas A & M University Veterinary Teaching Hospital | 500 Raymond Stotzer Parkway College Station, TX | (979)845-3541 |
| | The Ark Veterinary Hospital | 616 E Main Street, Atlanta, TX 75551 | (903)796-1169 |
| | The Doctors at Bastrop Veterinary Hospital | 2900 Hwy 95 North Bastrop, TX 78602 | (512)321-5386 |
| | Tiller Veterinary Clinic | 810 TX-156 Spur, Waskom, TX 75692 | (903) 687-2517 |
| | Town & Country Vet | 6300 Farm to Market Rd 1327 Austin TX 78747 | 512-385-0486 |
| | Town and Country Veterinary Clinic | 11447 US Highway 87 N Victoria, TX 77904 | (361)572-4397 |
| | Tri-County Vet Services | 8261 FM 2862 Anna, TX 75409 | (972)924-3622 |
| | Valley View Pet Health Center | 2561 Valley View Ln, Dallas, TX, United States | AMPA Veterinary Outreach Member 972-247-2242 |
| | Van Zandt Animal Care Center | 21449 US-80, Wills Point, TX 75169 | (903) 873-4100 |
| | Williams-Sebby Vet Clinic | 150 Quail Run Dr San Marcos, TX 78666 | 512-396-1996 |
| | Wimberely Veterinary Clinic | 12605 Ranch Rd 12, Wimberley, TX 78676, United States | 512 847-5630 |
| | Creekside Animal Hospital | 12720 South Pony Express Rd Draper, UT | 801-565-1263 |
| | Stone Ridge Large Animal Clinic | 1381 W. Stone Lane Riverton, UT 84065 | (801)254-4840 |
| | West Mountain Veterinary Hospital | 143 W 900 N Payson, UT 84651-1700 | (801)465-4648 |
| | Zion Veterinary Clinic | 90 E State St, Hurricane, UT 84737 | (435)635-4033 |
| | Highlands Animal Hospital | 25011 Lee Highway Abingdon, VA 24211 | (276)628-4115 |
| | Deepwood Veterinary Clinic | 7300 Ordway Road Centreville, VA 20121 | (703)631-9133 |
| | Abbey Animal Hospital | 1949 Lynnhaven Pkwy Ste 1524 Virginia Beach, VA 23453 | (757)726-7948 |
| | Bedford Animal Hospital | 1064 Centerville Road Bedford, VA 24523 | (540)586-0372 |
| | Blue Ridge Veterinary Assoc | 120 East Cornwell Lane, Purcellville, VA, United States | AMPA Veterinary Outreach Member 540-338-7387 |
| | Boyce-Holland Vet Services | 21047 Jeb Steuart Hwy Stuart, VA 24171 | (276)694-3564 |
| | Chatham Animal Clinic | 34 Pruden St Chatham, VA 24531 | (434)432-2273 |
| | Chesdin Animal Hospital | 25026 Ferndale Petersburg, VA 23803 | (804)732-6420 |
| | Clover Creek Animal Health | 2940 W Main Street Salem, VA 24153 | (540)380-3433 |
| | Countryside Veterinary Clinic | 10432 Ridgefield Pkwy Richmond, VA 23233 | (804)554-3247 |
| | Dominion Equine Veterinary Clinic | 2451 Lake Cohoon Road Suffolk, VA 23434 | (757)925-1234 |
| | Dr. Locke Taylor | 9023 Woodman Rd Richmond, VA | (804) 262-8629 |
| | Furr, Feathers and Scales Mobile vet services | P.O. Box 52 Pilot, VA 24138 | (540)239-7691 |
| | Hartwood Animal Hospital | 15 Jewett Lane Fredericksburg, VA 22406 | (540)286-2855 |
| | Hope Springs Veterinary | 1094 Diamond Springs Rd Virginia Beach VA 23455 | (757)464-6009 |
| | Luray Clinic of Veterinary Medicine | 1208 E Main Street Luray, VA 22835 | (540)743-7298 |
| | Midway Vet Hospital | 1646 S Millitary Hwy Chesapeake VA 23320 | 757-366-4050 |
| | New Baltimore Animal Hospital | 5296 Lee Highway Warrenton, VA 20187 | (540)347-0964 |
| | Oaks Equine | 14204 Benns Church Blvd Smithfield, VA, 23430 | (757) 365-4887 |
| | Oaks Equine | 14204 Benns Church Blvd Smithfield, VA, 23430 | (757)365-4887 |
| | Pender Veterinary Center | 4001 Legato Road Fairfax VA 22033 | (703)591-3304 |
| | Providence Square Veterinary Clinic & Referral Services | 1035 Kempsville Road Virginia Beach, VA 23464 | (757)495-2961 |
| | Rose Hill Vet | 21 A Christmas Tree Lane Washington Virginia, 22747 | (540)987-1200 |
| | Shenandoah Animal Hospital, Inc. | 576 East Reservoir Road Woodstock, VA 22664 | (540)459-2930 |
| | Todds Lane Vet | 1309 Todds Ln Hampton, VA 23666 | (757) 826-7602 |
| | Village Veterinary Hospital | 10500 New Kent Hwy Suite E New Kent VA, 23124 | (804)966-5999 |
| | Virginia Tech | 205 Duck Pond Drive Blacksburg, VA 24061 | (540)231-7666 |
| | Alison Cornwall, DVM | 979 US Route 2 Middlesex, VT 05602 | (802)505-9639 |
| | Essex Veterinary Center | 4 Oliver Wight Drive Essex Junction, VT 05452 | (802) 879-1399 |
| | All Creature's Veterinary Clinic | 11105 E. Dishman Mica Rd. Spokane Valley, WA 99206 | (509)921-9829 |
| | Amazia Vet Clinic | 12303 NE 152nd St Brush Prairie, WA. 98606 | (360)892-7524 |
| | Animal Hospital at Murphy's Corner | 1700 132nd St SE, Mill Creek, WA 98012 | (425)316-8387 |
| | Best Mobile Large Animal Practice | 23212 164th Avenue East Graham, WA 98338 | (360)893-2210 |
| | Cascade West Veterinary Hospital | 1305 S Gold St Centralia, WA 98531 | (360)736-3361 |
| | Green River veterinary hospital | 4212 Auburn way N Auburn, WA 98002 | (253) 854-4414 |
| | Haigh Vet Hospital | 81 SE Walker Park Rd Shelton WA 98584 | (360)426-1840 |
| | Kulshan Vet Hospital | 8880 Benson Road Lynden, WA 98264 | (360)354-5095 |
| | Olympic Vet Clinic | 1417 E Front St Port Angeles, WA 98302 | (360)452-8978 |
| | Pilchuck Veterinary Hospital | 11308 92nd St SE Snohomish, WA 98290 | (360)568-3111 |
| | Plateau Vet | 22531 SE 436th St Enumclaw, WA 98022 | (360) 825-1919 |
| | Tahoma Vet Hospital | 3317 224th St E Spanaway WA 98387 | (253)847-3500 |
| | The Family Pet Emergency Veterinarian | 6005 15th Ave NW, Seattle, WA 98107 | AMPA Veterinary Outreach Member (206) 784-3810 |
| | Woodinville Veterinary Hospital | 17646 140th Ave NE Woodinville, WA 98072 | (425)481-1184 |
| | Crivitz Veterinary Clinic | 811 F J St, Crivitz, WI 54114 | (715)854-2751 |
| | Bay View Veterinary Clinic | 890 Main Street Mukwonago, WI 53149 | (262)363-9993 |
| | Birnamwood Veterinary Services | 405 US Hwy 45 Birnamwood, WI 54414 | 715-449-2566 |
| | Blue Skies Animal Clinic | N8067 State Highway 13 Phillips, WI 54555 | (715)339-6933 |
| | Blue Skies Animal Clinic | 124 South Weber Avenue Stratford, WI 54484 | (715)687-3310 |
| | Center Hill Veterinary Clinic | 11644 S Hwy 23 Darlington, Wisconsin 53530 | (608)776-4083 |
| | Country View Vet Services | 1350 S. Fish Hatchery Rd. Oregon, WI 53575 | (608)835-0551 |
| | Dairyland Vet Services | 310 Main Street PO Box 187 Casco, WI 54205 | (920)837-7766 |
| | Fitchburg Veterinary Hospital | 6249 Nesbitt Road Madison, WI 53719 | (608)271-4212 |
| | Gentle Vet Animal Hospital | 1476 University Avenue Green Bay , WI 54302 | (920)435-5000 |
| | Happy Tails Animal Hospital | 1327 Banks Avenue Superior, WI 54880 | (715)718-2130 |
| | Heritage Animal Hospital | W6415 Greenville Drive Greenville, WI 54942 | (920)757-0407 |
| | Heritage Animal Hospital | 751 W. Main Street Hortonville, WI 54944 | (920)779-4343 |
| | Janesville Vet Clinic West | 1802 Mineral Point Ave Janesville, WI 53548 | (608)754-6606 |
| | Lodi Veterinary Care | 705 North Main Street Lodi, WI 53555 | (608)592-3232 |
| | Osceola Vet Services | 829 County Road S Osceola, WI 54020 | (715)294-3431 |
| | Pewaukee Veterinary Services | N29 W23950 Schuett Drive Pewaukee, WI 53072 | (262)347-0787 |
| | Sullivan Veterinary Clinic | 103 Main Street Sullivan, WI 53178 | (262)593-8021 |
| | United Vet Services | 26 10th St Clintonville, WI | 715-823-4747 |
| | United Veterinary Service Large Animal Clinic | E9525 Blueberry Rd. Bear Creek, WI 54922 | (715)752-4747 |
| | UW Wisconsin Veterinary- Madison School of Vet Medicine | 2015 Linden Drive Madison, WI 53706 | (608)263-7600 |
| | West Salem Veterinary Clinic | 965 W. Hwy 16 West Salem, WI 54669 | (608)786-0230 |
| | Wisconsin Valley Veterinary Service | 1605 Bovine Ln. Wausau, WI | 715-675-9402 |
| | Animal Care Associates Inc. | 840 Oakwood Road Charleston WV 25314-2010 | (304)344-2244 |
| | Audubon Animal Clinic | 15702 Barbour Country HWY Phillippi, WV 26416 | (304)457-3512 |
| | Audubon Animal Clinic | 17 Chenoweth Drive Bridgeport, WV 26330 | (304)842-4836 |
| | Bill Crank Veterinary Hospital Inc. | 5205 Kanawha Valley Road Henderson, WV 25106 | (304)675-1270 |
| | Danville Animal Clinic | 1373 Bently Rd Danville WV 25053 | (304)369-7001 |
| | Elk Valley Veterinary Hospital | 913 Old Frame Rd Elkview, West Virginia 25071 | (304)965-7675 |
| | Help For Animals | 1 Humane Way Barboursville, WV 25504 | (304)736-8555 |
| | Jackson Animal Clinic | 102 Miller Dr, Ripley, WV 25271 | (304)372-3802 |
| | Middletown Animal Clinic | 1615 Bobbeck Lane Fairmont, WV 26554 | (304)336-6130 |
| | Oak Hill Animal Hospital | 3271 Summerlee Rd Oak Hill, WV 25901 | (304)465-8267 |
| | Ohio Valley Animal Care Center | 901 Lockwood Ave Moundsville, WV 26041 | (304)845-7007 |
| | Paw Prints Vet Clinic | 1745 Mileground Rd Morgantown, WV 26505 | (304)296-7387 |
| | Pocatalico Animal Hospital | 6442 Starlite Dr, Charleston, WV 25320 | (304) 984-0064 |
| | Tri-State Veterinary Center | 6474 Merrittis Creek Road Huntington, WV 25702 | (304)525-8387 |
| | Casper Animal Medical Center | 4700 S. Valley Road Casper, WY 82604 | (307)237-8387 |
| | Desert View Animal Hospital | 940 Elk St Rock Springs, WY 82901 | (307)362-3184 |
| | Frontier Vet Clinic | 501 E Riding Club Rd Cheyenne WY 82009 | 307-634-7255 |
| | Gem City Veterinary and Pet Pantry | 1301 S 3rd St, Laramie, WY 82070 | (307) 755-5469 |
| | Lifetime Small Animal Hospital | 2627 Big Horn Ave Cody, WY 82414 | (307)587-4324 |
| | Uinta Veterinary Hospital | 38028 Business Loop I-80 Fort Bridger, WY 82933 | (307)782-6566 |
| | Hillcrest Animal Hospital | 1904 S Westwood Blvd, Poplar Bluff, MO 63901 | (573) 785-1471 |
| | Carolina Equine Hospital | 5373 NC-150, Browns Summit, NC 27214 | (336) 349-4080 |
| | Sulphur Springs Veterinary Clinic | 621 Big Bend Rd, Ballwin, MO 63021, United States | (636) 394-3227 |
| | Advanced Animal Care Berea | 201 Pauline Dr, Berea, KY 40403 | (859) 985-5678 |
| | Piedmont Veterinary Clinic | 101 Monroe Ave NE, Piedmont, OK 73078, United States | (405) 373-1909 |
| | Quail Roost Animal Hospital | 120 Quail Roost Farm Rd, Rougemont, NC 27572 | (919) 471-0737 |
| | Canyon Road Animal Hospital | 4201 Canyon Dr, Amarillo, TX 79110 | (806) 359-9465 |
| | Atlantic Veterinary Hospital | 11633 Philips Highway, Jacksonville, FL 32256, United States | (904) 738-8391 |
| | Boren Veterinary Hospital | 2065 West Farm Road, Stillwater, OK 74078, United States | (405) 744-7000 |
| | Kendall County Veterinary Center | 141 TX-46, Boerne, TX 78006, United States | (830) 336-2041 |
| | Wilkes Veterinary Hospital | 1007 2nd St, North Wilkesboro, NC 28659 | (336) 667-1109 |
| | Apple Grove Veterinary Care | 1800 E Clinton Trail, Charlotte, MI 48813, United States | (517) 543-6101 |
| | Bird and Animal Clinic | 2129 Parker Road, Plano, TX 75023, United States | (972) 985-0036 |
| | Grassland Veterinary Service | 202 NE 4th St, Lindsay, OK 73052, United States | (405) 756-4448 |
| | Liverpool Animal Health Center | 8205 Oswego Rd, Liverpool, NY 13090, United States | (315) 622-2882 |
| | Lunenburg Veterinary Hospital | 109 Massachusetts Ave, Lunenburg, MA 01462 | (978) 345-2623 |
| | Bonners Ferry Veterinarian Clinic | 6657 Main St, Bonners Ferry, ID 83805, United States | (208) 267-7502 |
| | Caledonia Veterinary Clinic | 503 Old Hwy Dr, Caledonia, MN 55921 | (507) 725-3380 |
| | George County Vet | 15259 MS-613, Lucedale, MS 39452 | (601) 947-1976 |
| | Prairie Ridge Veterinary Hospital | 12506 W Kellogg Ave, Wichita, KS 67235, United States | (316) 201-6292 |
| | Derby Pond Animal Hospital | 2757 US-5, Derby, VT 05829 | (802) 766-2222 |
| | Western Hills Animal Medical and Surgical Clinic | 19380 Hwy 105, Montgomery, Texas 77356, United States | 936-582-4223 |
| | Oxbow Veterinary Clinic | 272 Depot St, Bradford, VT 05033 | (802) 222-4635 |
| | Southview Animal Hospital | 32 Mendota Rd, Inver Grove Heights, MN 55077 | (651) 455-2258 |
| | Harrison Animal Hospital | 102 May Dr, Harrison, OH 45030, United States | (513) 367-4806 |
| | Harrison Animal Hospital | 102 May Dr, Harrison, OH 45030, United States | (513) 367-4806 |
| | Copake Veterinary Hospital | 7915 NY-22, Copake Falls, NY 12517 | (518) 329-6161 |
| | Kittanning Veterinary Hospital | 170 E Brady Rd, Kittanning, PA 16201 | 170 E Brady Rd, Kittanning, PA 16201 |
| | McCurdy Animal Hospital | 2107 Drake Avenue Southwest, Huntsville, AL 35805, United States | (256) 881-2482 |
| | Mount Laurel Animal Hospital | 220 Mt Laurel Rd, Mt Laurel, NJ 08054 | (856) 234-7626 |
| | Tilsit Road Animal Clinic | 2009 Co Rd 335, Jackson, MO 63755 | (573) 243-2010 |
| | Loma Linda Animal Hospital | 2605 South Waterman Ave E, San Bernardino, CA 92408 | (909) 825-3144 |
| | Moab Veterinary Clinic | 4575 S Spanish Valley Dr, Moab, UT 84532 | (435) 259-8710 |
| | Dowlen Road Veterinary Center | 2396 Dowlen Rd, Beaumont, TX 77706 | (409) 860-4386 |
| | Fremont County Veterinary PC | 2838 US-275, Sidney, IA 51652 | (712) 374-2721 |
| | Saddleback Mobile Veterinary Services | Charleston, SC, United States | (843) 718-4299 |
| | Edisto Equine Clinic | 7796 White Point Rd, Yonges Island, SC 29449 | (843) 889-1316 |
| | Powell Veterinary Service | 25505 CR 53 Kersey, CO 80644 | 970-352-9164 |
| | Cascade Veterinary Hospital | 2849 Fairfield Pike Wartrace, TN 37183 | (931) 389-0449 |
| | Plateau Valley Veterinary Service | 58016 Highway 330 Collbran, Colorado | (970) 487-3099 |
| | East Bay Mobile Country Vet | Pleasanton, California | (510) 449-1311 |
| | Medicine Man Veterinary Hospital, PLLC | 1001 E Union St, Morganton, NC 28655 | (828) 475-0287 |
| | Comstock Equine Hospital | 90 W Laramie Dr, Reno, NV 89521 | (775) 849-0120 |
| | Young's Animal Hospital | 1795 Cheney Hwy, Titusville, FL 32780 | (321) 267-3841 |
| | Pondview Veterinary Clinic | 20484 State Route 2, Archbold, OH 43502 | (419) 445-0207 |
| | Trigg County Vet Clinic | Cadiz, KY 42211 | 2705223404 |
| | Allen Creek Veterinary Hospital | 1930 Redwood Ave, Grants Pass, OR 97527 | (541) 476-2233 |
| | Trousdale County Vet Services | 700 E McMurry Blvd, Hartsville, TN 37074 | (615) 374-0330 |
| | Pacific Veterinary Clinic | 275 Fruitdale Dr, Grants Pass, OR 97527, United States | (541) 479-2221 |
| | Urban Livestock & Equine Veterinary Services | 744 N Center St Mesa, Arizona, AZ 85201 | (480) 510-4050 |
| | Lake City Pet Hospital | 902 Lincoln Way, Coeur d'Alene, ID 83814 | (208) 664-5629 |
| | Doc Holly Pet Vet | 9757 N Rustlers TRL, Hayden, ID 83835, USA | 208-772-3221 |
| | Whitehouse Animal Hospital | 11004 W Beaver St, Jacksonville, FL 32220 | (904) 781-0599 |
| | Queen Anne Animal Clinic | 1800 Queen Anne Avenue North, Seattle, WA 98109, United States | (206) 284-2148 |
| | Emerald City Emergency Clinic | 4102 Stone Way North, Seattle, WA 98103, United States | (206) 634-9000 |
| | Hometown Veterinary Care | 51 Western Ave Fairfield, Maine, ME 04937 | 207-453-PETS (7387) |
| | Annabessacook Veterinary Clinic | 417 Route 135 Monmouth, Maine, ME 04259 | (207) 933-2165 |
| | Simpson Veterinary Services | 116 Stephenson Mill Rd, Walton, KY 41094, United States | (859) 485-6555 |
| | Veterinary Associates Animal Hospital | 1920 U.S. 68, Xenia, OH 45385, United States | (937) 372-9978 |
| | Horizon Animal Hospital | 933 Bucyrus Rd, Galion, OH 44833, United States | (419) 468-2169 |
| | Fayette Veterinary Hospital | 1974 Columbus Ave, Washington Ct Hs, OH 43160 | (740) 335-6161 |
| | Rascal Animal Hospital | 5830 Britton Pkwy, Dublin, OH 43016, United States | (614) 791-7729 |
| | Northwest Veterinary Clinic Of Stanwood | 8500 Cedarhome Dr, Stanwood, WA 98292 | (360) 629-4571 |
| | Clover Valley Veterinary Services | 3805 SE Donato Ln, Port Orchard, WA 98367, United States | (360) 917-5887 |
| | Ellensburg Animal Hospital | 1800 Vantage Hwy, Ellensburg, WA 98926, United States | (509) 925-2833 |
| | All Creatures Animal Hospital | 4241 WA-3, Bremerton, WA 98312, United States | (360) 377-3801 |
| | Barnyard Pet Vet | 6005 15th Ave NW, Seattle, WA 98107, United States | (206) 784-3810 |
| | Warrenville Grove Animal Hospital | 3S481 Batavia Rd, Warrenville, IL 60555, United States | (630) 393-1131 |
| | Maricopa Animal Hospital | 19950 North John wayne Highway, Maricopa, AZ 85139, United States | (520) 568-2224 |
| | Veterinary Medical Center | 28966 Information Ln, Easton, MD 21601, United States | (410) 822-8505 |
| | Midshore Veterinary Service | 602 Dutchmans Ln, Easton, MD 21601 | (410) 820-9229 |
| | Parkside Animal Hospital | 5570 State Road 542 W Winter Haven, Florida, FL 33880 | (863) 965-2548 |
| | Northumberland Veterinary Services | 86 Percy Street, Colborne, ON, Canada | 905-355-1622 |
| | COMMONWEALTH VETERINARY CLINIC | 2356 Jefferson Highway, Waynesboro, VA 22980, United States | 540-942-9777 |
| | Valley Herd Health | 350 Lee Highway, Verona, VA 24482, United States | (540) 810-1878 |
| | Green Mobile Veterinary Services | 829 5 Ave, Prince George, BC V2L 3K5, Canada | 250-640-3784 |
| | Webb Animal Clinic | 3612 GA-21, Rincon, GA 31326, United States | (912) 826-1830 |
| | Glenwood Veterinary Clinic | 2514 Grand Ave, Glenwood Springs, CO 81601, United States | (970) 945-5401 |
| | Russell Veterinary Services | 142 Westmoreland St, Harrogate, TN 37752, United States | (423) 869-5040 |
| | East County Large Animal Practice | 10312 Quail Canyon Road, El Cajon, CA 92021, United States | (619) 561-4661 |
| | Dr. Jim E. Fallen | 320 Ranchitos Road Northwest, Albuquerque, NM 87114, United States | (505) 897-3787 |
| | Skyview Animal Clinic | 2139 Megan Dr, Cape Girardeau, MO 63701, United States | (573) 334-6283 |
| | Sachse Veterinary Hospital | 4730 Ranch Rd, Sachse, TX 75048, United States | (972) 442-4441 |
| | Troy Veterinary Services | 1165 ON-8, Sheffield, ON L0R 1Z0, Canada | 519-620-9948 |
| | Bon Air Animal Hospital | 2749 McRae Rd, Richmond, VA 23235, United States | (804) 320-5991 |
| | Barnesville Animal Clinic | 204 Burnette Rd, Barnesville, GA 30204, United States | (770) 358-3763 |
| | Mapleview Animal Hospital | 185 Panther Dr, Holland, MI 49424 | (616) 604-4288 |
| | Dr. Bob Irelan's Veterinary Services | 6804 North Socrum Loop Road, Lakeland, FL, United States | 863-859-9485 |
| | Gulf Coast Large Animal Clinic | 15835 County Rd 185, Alvin, TX 77511 | Suggest |
| | Freeport Veterinary Medical Center | 1316 N Brazosport Blvd, Freeport, Texas 77541 | (979) 233-3290 |
| | Faulkner Animal Hospital | 739 Lancaster Bypass E, Lancaster, SC 29720, United States | (803) 286-8131 |
| | Chaparral Veterinary Center | 801 TX-16, Jourdanton, TX 78026, United States | (830) 769-3737 |
| | Monroe Animal Hospital | 427 NY-17M, Monroe, NY 10950, United States | (845) 782-8621 |
| | Veterinary Center for Birds & Exotics | 709 Bedford Rd, Bedford Hills, NY 10507 | (914) 864-1414 |
| | Batt Veterinary Service | 1125 General Ogden Street, New Orleans, Louisiana, United States | (504) 228-4692 |
| | Midway Veterinary Clinic | 4990 KY-79, Brandenburg, KY 40108, USA | (270) 422-5151 |
| | Zumbrota Veterinary Clinic | 1412 Northstar Dr, Zumbrota, MN 55992 | (507) 732-7301 |
| | Tradewater Animal Hospital | Providence, KY, USA | (270)667-2033 |
| | Lee Summit Animal Hospital | Lee's Summit, MO, USA | |
| | Koch & Stigge | Harrisonville, MO, USA | |
| | Casey County Veterinary Services | 190 Hustonville Street, Liberty, KY, USA | (606) 787-0030 |
| | Animal Medical Center of Amarillo | Amarillo, TX, USA | [email protected] |
| | Hillpiggys | Medellín, Ver., Mexico | (312)8315740 |
| | Animal Medical Center | Amarillo, TX, USA | (806)358-7831 [email protected] |
| | Animal Class Veterinary | Bogota, 110841, Colombia | 3157988395 [email protected] |
| | Louisiana State University | Baton Rouge, LA, USA | Veterinary Teaching Hospital Skip Bertman Drive Baton Rouge, LA (225)5789528 225-578-9500 [email protected] |
| | Stokesdale | 1510 Sauratown Road, Germanton, NC, USA | 336-972-4718 |
| | Island Pet Veterinary Hospital | 209 West B McLean Drive, Cape Carteret, NC, USA | 252-702-8299 |
| | House Paws Animal Hospitals | 13174 Ebb Tide Circle, North Royalton, OH, USA | 216-218-0277 |
| | Kotonay | Bukharestskaya street, 142, Saint Petersburg, Russia | 416 - 555-9898 |
| | Marbletown Animal Hospital | 3056 New York 213, Stone Ridge, NY, USA | 845-687-7800 |
| | Pigs and CO | Medellín, Ver., Mexico | 57 3113010476 |
| | Yorba Linda Pet Care Center | Yorba Linda, CA 92887, USA | 4935 yorba ranch road suite c 714 -777-1677 |
| | True Companion Veterinary Care | 9818 Fry Road, Cypress, TX, USA | 832-930-7717 [email protected] |
| | Veterinary House Calls for Pets, inc. | Boca Raton, FL 33432, USA | 2661 ne 22nd ct Boca Raton, FL 33432 954-593-8879 |
| | Veterinary House Calls for Pets, inc. | 5780 South Plum Bay Parkway, Tamarac, FL, USA | 954-200-3472 |
| | Dr Little Pigs | Carrera 25 #10-40, Medellin, Antioquia, Colombia | 3155370035 |
| | Beautiful Pets | Av Valle Escondido 5501, Valle del Ángel, Chihuahua, Mexico | 6141762951 |
| | Animalia Hospital Veterinario | Av. Dr. José Eleuterio González 104, Mitras Norte, Monterrey, Nuevo Leon, Mexico | 8124683005 |
| | Green Valley Veterinary Services, LLC | 122 Atwoodville Rd, Mansfield Center, CT, USA | 860-420-5002 |
| | MiniPigs DF | Avenida Estrella Cefeida 43, Prados de Coyoacán, Ciudad de México, CDMX, Mexico | 5547190958 5547190958 |
| | Exotic Animal Hospital of Orlando | 24 West Sturtevant Street, Orlando, FL 32806, USA | Email: [email protected] Phone: 407-286-3484 |
| | Greer's Ferry Veterinary Clinic | 8230 Edgemont Road, Greers Ferry, AR, USA | 501-825-8400 [email protected] |
| | Peoria Animal Hospital | 8925 West Peoria Avenue, Peoria, AZ, USA | 602-397-9663 |
| | Animal Medical Center | 6201 West Amarillo Boulevard, Amarillo, TX, USA | 806-358-7831 |
| | Louisiana State University, Veterinary Teaching Hospital | Skip Bertman Drive, Baton Rouge, LA, USA | 225-578-9528 |
| | Stokesdale | 1510 Sauratown Road, Germanton, NC, USA | 336-972-4718 |
| | Kotonay | Bukharestskaya street, 142, Saint Petersburg, Russia | 416-555-9898 |
| | Marbletown Animal Hospital | 3056 New York 213, Stone Ridge, NY, USA | 845-687-7800 |
| | Yorba Linda Pet Care Center | 4935 Yorba Ranch Road, Yorba Linda, CA, USA | 714-777-1677 |
| | All Creatures Animal Hospital | Dunwoody, GA, USA | (770) 393-3400 |
| | Tillema Veterinary Clinic | 708 N Main St, Corona, CA, USA | (951) 547-1675 |
| | Dr. Bosilevac, Best Care Pet Hospital | 4915 North 120th Street, Omaha, NE, USA | 402-445-8738 |
| | Dr. Henning, Gretna Animal Clinic | 617 U.S. 6, Gretna, NE, USA | (402) 332-4632 |
| | Farnam Pet Hospital | 312 South 15th Street, Omaha, Nebraska 68102, USA | |
| | Green Acres | 1276 County Road 17, Wahoo, NE 68066, USA | (402) 443-3289 |
| | Arbor Valley Animal Clinic | 264 N 30th Rd, Syracuse, NE 68446, USA | (402) 269-3267 |
| | All Pet Care | 1453 Sunset Point Rd, Clearwater, FL, USA | (727) 330-2823 |
| | Peterborough Veterinary Services | 720 The Kingsway, Peterborough, ON, Canada | +1 705-748-4744 [email protected] |
| | Holmes Animal Clinic | Algona, IA 50511, USA | (515) 295-2627 |
| | North Star Animal Hospital | 840 S Cobb St, Palmer, AK, USA | (907) 746-7381 |
| | Hillside Pet Clinic | 2011 Abbott Rd, Anchorage, AK 99507, USA | 907-290-3872 907-344-7913 |
| | Lakeside Veterinary Services | 25352 Oklahoma 82, Park Hill, OK, USA | 918-453-2655 [email protected] |
| | Nechako Valley Animal Health Services (nvahs) | 11879 Braeside Road, Vanderhoof, British Columbia V0J 3A2, Canada | +1 250-567-4532 |
| | Halifax Humane Society, Inc. - Redinger Spay & Neuter Clinic | 600 Mason Ave, Daytona Beach, FL 32117, USA | (386) 310-4935 |
| | Viscaya-Prado Veterinary Hospital | 920 Country Club Blvd, Cape Coral, FL, USA | 239-574-6171 [email protected] |
| | Van Roekel & Associates PA | 18930 Old Bayshore Rd, North Fort Myers, FL 33917, USA | (239) 694-7177 |
| | Concord Veterinary Clinic | 412 N Main St, Concord, MI 49237, USA | 517-524-8180 |
| | MSU Animal Hospital | 736 Wilson Rd, East Lansing, MI 48824, USA | 517-353-5420 |
| | Bradford Park Veterinary Hospital | 1255 East Independence Street, Springfield, MO, USA | Dr Zacharias 417-886-0777 |
| | Roland Vet Clinic | 58931 130th Street, Roland, IA, USA | 515-388-4360 |
| | Tumbleweed Veterinarian Clinic | 437 South Main Street, Cottonwood, AZ, USA | 928-634-3310 |
| | Arizona Mobile Vet | Queen Creek, AZ, USA | |
| | Red Dirt Veterinary Services | Stillwater, OK, USA | 719-671-9574 |
| | North Warren Animal Hospital | 128 NJ-94, Blairstown, NJ, USA | 908-224-0416 |
| | Monroe City General Veterinary Clinic | Monroe City, MO, USA | |
| | Midwestern University Equine and Bovine Center | 5725 W Utopia Rd, Glendale, AZ 85308, USA | |
| | Cherokee Animal Care Clinic | 1100 US-441 South, Whittier, NC, USA | (828) 497-3401 |
| | Pine View Veterinary Hospital | Bolton, NC, USA | |
| | Four Paws Animal Hospital | 5620 Old Rowlett Road, Rowlett, TX 75089, USA | |
| | Appalachian Animal Hospital | 29 Monticello Rd, Weaverville, NC 28787, USA | 828-658-8989 |
| | Regional Veterinary Services | 1652 Springville-Judah Rd, Springville, IN 47462, USA | (812) 277-9500 |
| | Haley Veterinary Practice | 1104 W Main St, Lebanon, TN, USA | (615) 547-9378 |
Learn more about spaying & neutering mini pigs:
Donate to the Spay Neuter Assistance Fund
The problems of intact pigs
The importance of spay and neuter
Considerations for spay and neuter
Choosing a veterinarian
Find a veterinarian on the AMPA Veterinary Map