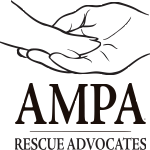 Rescue Code of Ethics
AMPA Registered Rescue Organizations are committed to strive for the best quality of life they can provide for the pigs they rescue, for the life of the pig. The AMPA Rescue Code of Ethics provides guidelines to assist Rescue Organizations in ensuring the needs of the rescue pigs are met.
1. Rescue Organization will screen & educate potential adoptive homes including an adoption application, phone interview, veterinary reference, and home visit when possible. Support and education will continue through the life of the pig to prevent rehoming, neglect, and abandonment.
a. To ensure good forever homes, Rescue Organizations agree to spend an ample amount of time screening potential adopters on lifestyle, living conditions, other animals and persons living in the home, zoning requirements, time investment requirements for a pig, renting vs owning, and age requirements of perspective adopters to help facilitate a forever home for pig/piglets.
b. Rescue Organization agrees to educate potential buyers about mini pigs as pets including the emotional, physical, behavioral characteristics, needs, and a general knowledge of caretaking required for ownership to ensure a mini pig is a good fit for the family as a pet.
2. All pigs are spayed, neutered, microchipped, treated for potential internal & external parasites, provided adequate nutrition, tusk care, hoof care, and given appropriate veterinary care before adoption.
3. Intact pigs are separated and protected from each other, then spayed and neutered as quickly as feasible. Rescue Organization will not breed, or allow rescue pigs to breed. Rescue Organization will not adopt out or sell intact pigs.
4. Rescue Organization will utilize appropriate documents in the rescue process. These may include but are not limited to: Release Form, Foster Application, Foster Contract, Adoption Application, Adoption Contract, Volunteer Application, and Volunteer Contract. Spay and Neuter contracts will not be used, all pigs will be altered before the adoption process begins.
5. Rescue Organization maintains financial responsibility for all pigs in care, taking in only the number of pigs Rescue Organization can adequately care for. Rescue Organization will reach out for help as needed to maintain adequate care for all pigs.
6. Rescue Organization will provide adequate housing for all pigs including fencing, shelter, protection from weather, protection from pregnancy, and protections from other animals & diseases.
7. Rescue Organization will provide adequate nutrition for the pig including fresh potable water at all times. Rescue Organization strives to maintain a healthy weight on each pig in care avoiding malnutrition and obesity. Rescue Organization will strive to maintain each pig at a 3 on the AMPA Body Conditioning Chart to avoid underweight or overweight health consequences.
8. Rescue Organization will follow all USDA requirements when traveling with pigs and/or crossing state lines. These requirements vary by state and therefore will be researched before pigs embark on travel.
9. Rescue Organization agrees to take back any adopted pig at any time in its life, regardless of the circumstances. Adoption fees need not be refunded, but Rescue Organization will accept pig back into care or assist in finding a new adoptive home for the displaced pig.
10. When a pregnant sow is rescued, Rescue Organization will provide adequate veterinary care and nutrition to the sow and the piglets. Piglets will stay with the sow until they are 6-8 weeks old unless there is an emergency that separates them. If the mother is unable to nurse, the piglets will be provided with pan feedings rather than a bottle. Piglets will be socialized and given proper care before adoption.
11. Rescue Organization agrees to advocate for pet pigs, to spread awareness and education, and to work together with AMPA and AMPA Rescue Advocates to improve the mini pig rescue community through joined efforts.
12. Above all, the Rescue Organization agrees to reach out to AMPA Rescue Advocates for support and assistance as needs arise. Let us help! That's what we are here for!