Updated with auction totals on April 18, 2016
Auction Success! 
The Spay Fund Auction was a huge success! Thanks to all the donors, the bidders, the winners, and everyone working behind the scenes we were able to raise the $750 to spay the 5 rescued pigs plus add funds to the American Mini Pig Rescue Spay and Neuter Assistance Program. To apply for a $50 spay or neuter assistance voucher, click here.  To donate to the spay and neuter assistance program, click here and make a note on the tax deductible donation that it's for the spay and neuter fund. 
Auction Totals:
Money raised in winning bids: $1,960.00
Direct donations: $30.00
Fees deducted by PayPal: $63.95
Check sent to Karns Animal Clinic for 5 spay surgeries: $750.00
Total funds added to the Spay and Neuter Assistance Program: $1,176.05
Thank You! To Our Donors:
This Little Pet Shop by This Little Piggy Minis, Jessie Brookings
Pigs in a Pocket, Savanna Hicks
Knotty Pig Creations, Shanda Payton
 Snout Art, Olivia, Petunia, and DaVinci!
 Spamala's Creations, Teresa Alleva
Pigxel Art, Kevin Gottuso
AMPA – American Mini Pig Association Mini Pig Registry
Snort Life, Doreen Burke
Moonlight Inked, Ana Garcia
Rheann Fredericks
Rhonda Ogle Kunnath
Lakeside Studio LA
Lydia Weaver
Lolita Ramsey
Dawn Bleeker, Capitol Theatre II, Where Every Movie Brings Out Joy
Happy Goat Soap
Candy in Jewelry
LeBlanc Wellbeing, Babette LeBlanc
Livie Creations, Melinda Livie
Tamara Shireman
Cammie Lyons
Paisley's Peaches N Charms, Lisa Rochelle
Monkey-Made Products, Breeka Li
Pig Gear, Brenda Dupler
Charming Mini Pigs, Kimberly Chronister
Lisa Bourgeois
The Lum Won Family, Amy-Lauren, Corey, and Princess Mango
Oh Little Rabbit
Allison Smith
Thank you to our winning bidders!
Jaqueline Spencer
Ashley Jenson
Jamie McMichael
Tonya McGirr
Jennifer Eastland
Tammy Dodson
Cindy Revell
Kristina's Critter Care
Laura Rencher
Rhonda Kunnath
Patricia Cronberg
Sara Kiser
Kathy Emmett
Lannette Amon
Holly Butterfield
Carrie Sanders
Amanda Simpson
Margaret Botkin
Meagan Esparza
Morag Hatten
Amy Neuman
Kathryn Kidwell
Breonna Krafft
Jessy Kraft
Terri Dickson
Lynsey Schwing
Christina Dell
Malisa James
Corey Lum Won
Susan Gray
Pascale Langlais
Lisa Bourgeois
Jade Elizabeth Fowler
Crystal Markley
Tracey Wolf McKinney
Jacey Murphy
Kim Sullivan Quinland
Paula Postlewait
Kym Olson
Holly Whitney
Gail Williams
Candace McGrath
Babette Leblanc
Stacey Walton
Jamie Gragg
Adoptable Mini Pigs in Tennessee are looking for a home! Elizabeth Buttram has been saving displaced pigs in her community, getting them veterinary care, healthy, socialized, and screening appropriate adoptive homes. She currently has 9 gorgeous mini pigs available for adoption. All boys have been neutered, but the girls need spayed. If you would like more information on these mini pigs or would like to inquire on adopting, please send an email directly to their foster mom and caretaker, Elizabeth at [email protected]
The American Mini Pig Rescue is a 501c3 nonprofit organization. All donations are tax deductible. Receipts for tax purposes will be provided upon request. We will be assisting in the spay costs for these 5 girls.  Veterinary costs for mini pigs are astronomical, but the cost of adopting out intact pigs is far worse.
Help us help them! An estimated $750 is needed to fund the spays for Tugboat, Ruby, Penelope, Blossom, and Fat Amy. These spays will literally save their lives as it eliminates the serious threat of fatal uterine infections and cancers. It also ensures they won't suffer the life that was before them, a life of breeding by unscrupulous owners, creating more "throw away" pigs that will eventually be left to fend for themselves. Help us spay these 5 beautiful young ladies to give them a chance at the happy, healthy, life of a beloved pet. If you are able, please donate directly through PayPal here and note that your donation is for the Rescue Advocates Spay Fund. 
Auction Time! In addition to direct donations, the American Mini Pig Rescue is organizing a fundraising auction to cover these spay costs.
When: 

Start Wednesday, March 23

End Wednesday, March 30 at 6 pm Central Time Zone

Where: The American Mini Pig Rescue Advocates Facebook page

Why: 100% of proceeds and donations will be used to fund the spay surgeries of these 5 adoptable mini pigs. If excess funds are raised, those will be set aside by the nonprofit to fund future spays. There is NO shortage of mini pigs in the community needing spayed. All money raised will be used specifically for mini pig spay surgeries of pigs in need.
If you are looking to donate an item for the auction, please email [email protected] with a description of the item, the estimated shipping cost, and a clear photo of the item. If you are donating on behalf of a business please include a link that we can use to promote and thank the donor. Thank you for your consideration! We greatly appreciate any help we can get!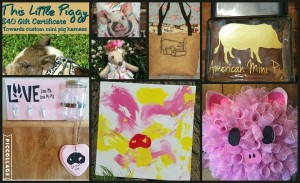 Meet The Adoptable Pigs!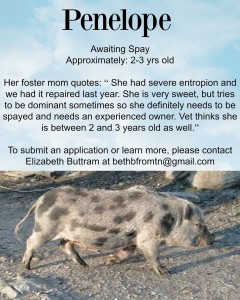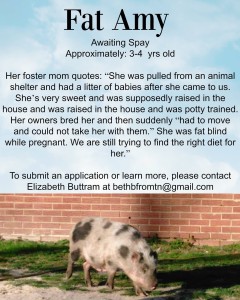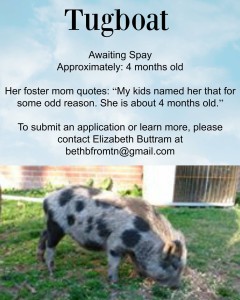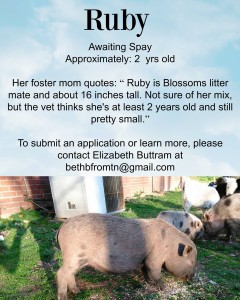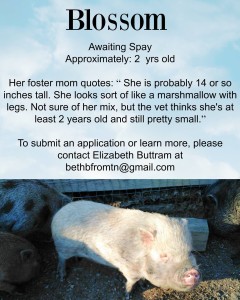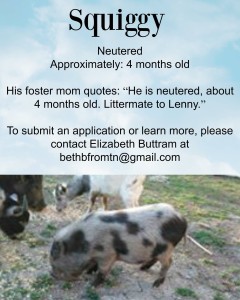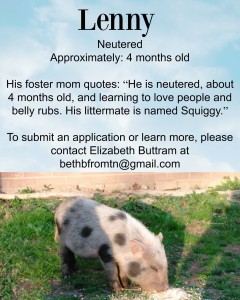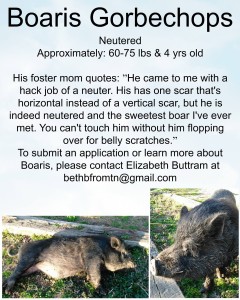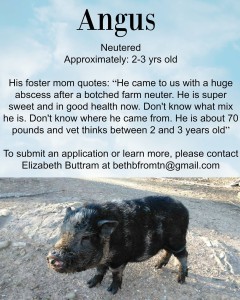 If you are interested in giving one of these displaced pigs a permanent home, please answer the following questions as a screening application and email to Elizabeth at [email protected]
Rescue Application
Name:
Full Address:
Phone:
Email:
Name of pig you are interested in:
Do you rent or own your home?
Do you live in a planned community or have a homeowners association?
Do you have a fenced yard or fenced area appropriate for a pig?
Please explain size, housing structure, shade, etc.
How do you plan to house the pig? Please explain in detail:
Do you have any previous pig experience? If so, please explain:
What are your size expectations? Answers must be explained in detail:
How many members live in your household?
Please list ages, and a brief description of work schedules, school functions, extracurricular activities you may be involved in:
Who will care for the pig while you are away?
Are you a member of any facebook groups? If so, please list below:
Do you have any other pets? If so, please list breeds and a short description of how they are housed:
Who will be the main caregiver of the pig?
Please list your current veterinarian's contact information:
Please explain why you would like to add a pig to your family:
Please send a photo of the indoor space where you plan to house your pig as well as a photo of the outdoor space the pig will be housed.